STANTON COMMUNITY SCHOOL BULLETIN DECEMBER 20, 2019
SCHOOL ACTIVITIES
Pink Out
FCCLA is sponsoring a Pink Out event on Tuesday, January 14th. The evening will start with a meal from 5:00-8:00 p.m. In the commons, there will be ducks (Chuck a Duck during the halftime of the boys game) and beads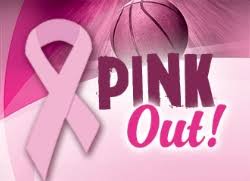 (Heads/Tails between the girls and boys games) to buy for a chance to win prizes. We will pass the bucket after the 1st quarter of the boys game. All of the money raised will go to the Montgomery County Relay for Life. Pass the Bucket, jersey auction, plus more. The basketball players jerseys will be available for silent auction on the 14th and will be available to be worn on Friday, January 17th.
Food Drive
The 5th grade class would like to have a Holiday Food Drive to help area families. We want to have a contest for K-5th classes, to see who can "rack up" the most points from now until December 20th.
Please bring items to your homeroom class. They will be picked up and counted daily by the 5th grade class. We are thankful for the support during this holiday season!
The following point system will allow us to see which class can earn the most points. The elementary class winner will earn a movie and pizza party in January!
PLEASE, WHEN DONATING ITEMS, MAKE SURE THEY ARE NOT OUTDATED!!
5 Points
Cereal, Peanut Butter, Toilet Paper, Laundry Detergent, Cake Mixes, Canned Tuna/Chicken, Hamburger/Tuna Helper
4 Points
Flour, Sugar, Spaghetti Sauce, Canned Meals (SpaghettiOs, ravioli, stew, or chili), Soups
3 Points
Macaroni and Cheese, Brownie/Muffin Mixes, Instant Mashed Potatoes, Beans, Oatmeal, Crackers, Rice, Paper Towels, Kleenex, Juice
2 Points
Dish Soap, Hand Soap, Body Soap, Shampoo, Toothpaste, Toothbrushes, Mouthwash, Pizza Sauce, Pasta, Pie Filling
1 Point
Any Canned Good (fruits and vegetables), Boxed Jell-O, Boxed Pudding
We look forward to helping the people in our community and having a fun contest while doing it! Thank you very much!
Gifts for Blank Children's Hospital
This year the elementary classes will be collecting (new) markers, colored pencils, Elmer's glue, inexpensive earbuds, $5 gift cards to Target, Casey's or Amazon to donate to Blank Children's Hospital in Des Moines and Children's Hospital in Omaha. Please help us collect these items to make some children's Christmas a little brighter.The last day to donate is today, December 20th. Thank you!
ATHLETICS
Viqueen Basketball
The Queens move to 8-1 on the season with wins against Heartland Christian and East Mills, and Essex.
Stanton 74-Heart Christian 30
Stanton 54-East Mills 53
The Queens let an 11 point 4th quarter lead evaporate and East Mills took the lead late. The Queens regained the lead with Jenna Stephens pair of free throws and Kaitlyn Bruce adding another freethrow with 16 seconds remaining to seal the victory. Coach Snyder said, "We had a serious meltdown in the 4th quarter, fortunately the girls kept their cool and made enough plays to win the game". This sets Stanton up for a big showdown with Fremont-Mills tonight in Stanton's gym.
Viking Basketball
The Vikings took on the East Mills Wolverines last Friday, 57-60.
Coach Blunt said, "Sure a tale of 2 halves. I thought we played our best half of the year in the first and East Mills controlled the 2nd half. We were not as sharp on offense and that led to some offensive opportunities on their end. A tough loss but I think we will come back next week and get after it." The Junior Varsity played two quarters, 25-22.
On Tuesday, December 17th, the Vikings played Essex and came away with the win 95-15. "We had a very strong 1st half for the Varsity players and the JV group did a good job the 2nd half. Having 6 in double figures is always a good stat. Along with that we had 23 steals. We came out with good focus and were able to keep that for 4 quarters," said Coach Blunt.
The Vikings Junior Varsity Basketball played Heartland Christian on December 12th with a score of 39-52. "I thought we worked pretty hard but did not execute as well as we wanted to and for what we had been working on. Heartland Christian had a big 2nd quarter to take a 31-17 lead at half. We had a couple chances to cut the lead to single digits but could not get that big defensive stand and convert on offense.
Junior High Girls Basketball
This past Thursday the Viqueens were in action with Heartland Christian. We played just one full game. Stanton won, 52-3. On Tuesday, the team was back in action. Stanton went four quarters with the Essex Trojanettes. The Queens came away with a W, 42-32. We are back in action after the Christmas break. We have been thankful for the support this season! Go Viqueens!
Junior High Boys Basketball
Junior High boys basketball team moved to 5-3 on the year with a win over Essex Tuesday night. The game was their last before Christmas break. They look to continue their schedule after break with a game at Hamburg on January 6th. Later that week they will be playing at home on January 9th vs. Fremont-Mills. Come out and support the boys. Go Vikes!
GUIDANCE
Scholarships
National Wild Turkey Federation - due January 1 - Online
-must be a senior with a 3.0 grade point average
-must be pursuing a degree at an accredited institution of higher education
-must support the preservation of the hunting tradition and actively participate in hunting sports—a copy of a current hunting license is required
-must be willing to become a member of the National Wild Turkey Federation (Xtreme JAKES, student or regular membership)
-must be involved in school activities
-must demonstrate ability as a leader among his or her peers
-must demonstrate community involvement
-must submit an essay and autobiography exhibiting dedication to conservation
-must submit three letters of recommendation
-Local Scholarship Winner will receive a minimum of $250
-State/Provincial Scholarship Winner will receive a minimum of $1,000
-National Scholarship Winner will receive $10,000
-Forms available at http://www.nwtf.org/resource-library/detail/jakes-scholarship-application
ANNOUNCEMENTS
JHUG and CYO Christmas Party
JHUG and CYO will meet Sunday, December 22nd, at 5:00 p.m. at Mamrelund Church to go Christmas Caroling followed by a pizza party. Bring a food pantry item. Please bring a friend & come join the fun!
Gift Ideas
The bustle of the Holidays is upon us, the Stanton Booster Club wishes everyone a safe and happy holiday season. If you're looking for Stanton wearables in a huge assortment of sizes and styles or Stanton caps, hats, scarves, or stadium seats please let us be a shopping stop for you! All make excellent gifts! Items are on display and available for purchase in the Stanton Elementary office or contact a Booster Club board member to help! Go Vikings and Viqueens!
COMING EVENTS
Friday, 20th 1:05/1:15-Early Dismissal
4:15-Junior Varsity Basketball
5:00-Booster Club Meal
6:00-High School Basketball with Fremont-Mills, Here
Monday, 23rd-2nd NO SCHOOL
Friday, 3rd Classes Resume
6:00-High School Basketball at Griswold
6:00-Junior Varsity Basketball at Griswold
Monday, 6th 1:05/1:15-Early Dismissal
4:00-Junior High Basketball at Hamburg
Tuesday, 7th 4:00-Junior High Girls Basketball at Clarinda Lutheran
Thursday, 9th Large Group Picture Day
Junior High Basketball with Fremont-Mills
Boys-Here, 3:30
Girls-There, 3:45
Friday, 10th 6:00-Junior Varsity/Varsity Boys Basketball at
Clarinda Academy
BREAKFAST MENUS DECEMBER 30-JANUARY 3
Monday

NO SCHOOL

Tuesday

NO SCHOOL

Wednesday

NO SCHOOL

Thursday

NO SCHOOL

Friday

Breakfast Pizza

Muffin/Fruit

Juice, Milk
LUNCH MENUS DECEMBER 30-JANUARY 3
Monday

NO SCHOOL

Tuesday

NO SCHOOL

Wednesday

NO SCHOOL

Thursday

NO SCHOOL

Friday

Pizza Burger/Bun

Tri-Tater

Corn

Mandarin Oranges

Applesauce

Milk
BREAKFAST MENUS JANUARY 6-10
Monday

Pancakes

Muffin/Fruit

Juice/Milk

Tuesday

Sausage Gravy

with Biscuit

Muffin/Fruit

Juice/Milk

Wednesday

Crescent Roll

Muffin/Fruit

Juice/Milk

Thursday

Omelet

Toast

Muffin/Fruit

Juice/Milk

Friday

Waffle

Muffin/Fruit

Juice/Milk
LUNCH MENUS DECEMBER JANUARY 6-10
Monday

Rib/Hot Dog

Baked Beans

Tri-Tater

Mandarin Oranges

Applesauce

Milk

Tuesday

Mashed Potato Bowl

Corn

Pears

Mixed Fruit

Roll

Milk

Wednesday

Sloppy Joe

Cheesy Broccoli

Potato Wedges

Pineapple

Apple Crisp

Milk

Thursday

Tuna Noodle Casserole

Peas

Green Beans

Oranges

Peaches

Roll

Milk

Friday

Chicken Fried Steak/Bun

Lettuce/Tomato

Sweet Potatoes

Baked Beans

Mandarin Oranges

Applesauce

Milk
It is the policy of the Stanton Community School District not to discriminate on the basis of race, color, national origin, sex, disability, religion, creed, age (for employment), marital status (for programs), sexual orientation, gender identity and socioeconomic status (for programs) in its educational programs and its employment practices. There is a grievance procedure for processing complaints of discrimination. If you have questions or a grievance related to this policy please contact Mrs. Sheila Mainquist, 605 Elliott St., Stanton, Iowa 51573, smainquist@stantonschools.com, (712) 829-2162.