STANTON COMMUNITY SCHOOL BULLETIN JANUARY 18, 2019
SNOW MAKE UP DAYS WILL BE FEBRUARY 18TH AND APRIL 23RD
SCHOOL ACTIVITIES
Large Group Speech Contest
The Stanton high school speech students will be in action this Saturday at the Clarinda High School. Please stay tuned to the weather forecast. If contest is not on Saturday, it will be postponed for Wednesday, January 23rd. It has been a great time preparing for contest! Here is the schedule for contest:
Center 7 Room 112
8:00 AM Group Mime - Clean Up On Aisle Five
Devin Isaacson, Brooklyn Adams, Will Roberts, Rylan Houston
Center 5 Room 107
8:24 AM Radio Broadcasting - 7West
Andrew Hammargren, Savanna Moffett, Anika Wenstrand, Haylie Huddle, Levi Martin, Ryan Volquartsen, Hannah Elwood
Center 3 Room 101/102
11:40 AM Group Improv - Team Captain Strong
Cameron Sallach, Kegan Sundberg, Sam Lindgren, Ryan Volquartsen, Charles Davis
Center 5 Room 107
12:06 PM Radio Broadcasting - LUNR
Nick Mueller, Wil Roberts, Rylan Houston, Brooklyn Adams, Mallorie Wookey, Bethany Goodmote, Shelby Brockshus
Center 9 Room 106/109
2:15 PM Group Improv - The Refs from Air Bud
Shelby Brockshus, Devin Isaacson, Savanna Moffett, Mallorie Wookey
Winter Ball 2019
Please join us the week of January 21st to celebrate Winter Ball 2019. We will have dress up days throughout the week with prizes, Pep Rally on Friday, and end the week with a dance for both Middle School and High School on Saturday January 26th. Middle school (6th-8th grade) will be from 6:00-8:00 PM at the Stanton Fire Station, High School will be from 8:30-11:00 PM. $5 admission per person, all proceeds go to the Stanton Cheerleaders/Dance team.
Winter Ball Court was announced on January 4th. Any questions feel free to contact Jana McCunn, Cheer/Dance Coach.
Yearbook Sales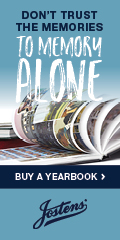 The 2019 "COLOR Y(OUR) WORLD" yearbook will go on sale beginning January 25th. From January 25th through 31st, the books will cost $50.00 and starting February 1st, the books will cost $60. Contact a yearbook staffer to order and pay for your book.
You may also purchase your yearbook online with a credit card. To order online, go to www.stantonschools.com and click on the picture that you see to the left. That will take you to shopjostens.com where you can purchase your book. This link will go into effect starting January 25th.
You can personalize your yearbook as follows:
Icons (up to 4) for $3.50
One line of personalization for $6.00
Regardless of which method you use to order, the book has lots of colorful moments that the staff has worked very hard on so don't miss out on a great "COLOR Y(OUR) WORLD" book about Stanton High School.
Iowa Western Honor Band
Congratulations to Devin Isaacson, Charles Davis, Cameron Sallach, Elly McDonald, and Addison Olson for being accepted to the Iowa Western Honor Band. They will perform with other select students from across the state of Iowa and Nebraska in a concert on January 31st at 7:00 PM.
SW Iowa Choral Directors Association Honor Choir
On January 18th, the Stanton vocal department will participate in the SW Iowa Choral Directors Association Honor Choir. Students attending this all day event will be Kami Tibben, Devin Isaacson, Shelby Brockshus, Savanna Moffett, Levi Martin, and Charles Davis. The concert will be at 7:00 PM. in the Arts Center at Iowa Western Community College. Admission will be $5.00 for adults and $2.00 for
students. The concert will feature the festival choir under the direction of Dr. Derrick Fox, and the IWCC 1st Edition Show Choir.
Swing Choir Luncheon
Swing Choir Soup Luncheon will be Sunday, January 27th, from 11:30 AM-1:00 AM at Mamrelund Lutheran Church. They will be serving Ham & Potato, Broccoli Cheese, and Chicken Noodle. The swing choir will be performing between 12:30 PM and 1:00 PM. Cost is free-will donation.
Driver's Education
Stanton will be starting a Driver's Education class sometime mid-February. Please talk with your student if they are of age 14 or older and have their permit or will be obtaining it before 1st day of class, they are eligible. If this works for you have them sign up in the office or give us a call in the high school office at 829-2162. Fees have not been set as of yet.
Food Drive
The 5th grade class would like to thank the students, parents, teachers, and community for supporting the food drive. There was a generous amount this year for the local food pantry! It was a wonderful opportunity for the students to assist those in need and to learn how to serve. Thank you again for being support of others and promoting a helpful life!
ATHLETICS
Parents' Night
Parents' Night will be January 25th. Stanton Booster Club will be taking pictures starting at 5:00 PM with the girls and at 5:30 PM with the boys and their parents in the concourse till 6:00 PM.
Viqueen Basketball
The Viqueens found themselves in a defensive battle at Griswold on January 8th. With the Queens leading at half 14-11 a genuine dog fight to the end was apparent. Coach Snyder said, "Going scoreless in the 3rd period and only being down 4 points going into the 4th quarter was fortunate, against a one-loss team." With 8 for 41 shooting combined with two starters fouling out the Queen's chance of an upset faded. Final score was 21-32.
The Viqueens picked up a Corner Conference win last Friday defeating East Mills 39-32. Stanton never trailed in the game that would not be decided until the final seconds. The win was much need as the Queens had been on a three-game skid.
After jumping out to a 13-5 first quarter lead the Queens were outscored 22-17 in quarters 2 and 3. Clinging to a 3 point lead 3 pointers by Shelby Brockshus and Kami Tibben helped to regain a manageable margin and secure the victory.
Stanton girls opened up Corner Conference Tournament play with a victory over Essex. Stanton came into the tourney as the fourth seed and a 6-7 record.
Stanton's slow start though looked to jeopardize the chances of staying in the tournament. The defensive steals in the second half lead by Shelby Brockshus (10 steals) paved the way for fastbreak layups most notably by Hope Ogletree who led all scorers with 23. Defensively the Queens held the Trojanettes to 7 points the second half and cruising to a 47-21 win.
Viking Basketball
Tuesday we started the Conference Tournament off with a 69 - 25 win over Essex at Clarinda Academy. We then played at Fremont-Mills vs Fremont-Mills in a semi-final game on Wednesday night and advanced on with a 69-55 win over the Knights. We took on East Mills Thursday night in the championship contest. This is the 4th straight year we have played in the championship game winning it in 2016 and 2018.
Junior High Girls Basketball
The season is winding down for the Viqueens. We traveled to Tabor last Thursday and played two complete games with them. Both games were extremely physical, but the girls competed well. The "A" game finished with a W, 34-19. Also the "B" game finish with a win, 32-15. We have recently been in action with the Lenox Tigers. The full game ended in a win, 54-15. Then the two extra quarters also finished with a victory, 18-4. The team is back on the court with the Essex Trojanettes on Tuesday, January 22nd. There will be only one full game starting at 4:00 PM in Essex. Please come out to watch the Viqueens play their last game!
Junior High Boys Basketball
No games again this week. Last regular season game is scheduled for next Tuesday, January 22nd, at Essex. Tipoff 5:00 PM.
GUIDANCE.
Scholarships
Strayer-Rairden Scholarship in Physics – January 31
http://www.physics.uiowa.edu/undergraduate-program/undergraduate-scholarships-and-awards/strayer-rairden-scholarship-physics
-$1,000 each year, renewable for up to 3 successive years following the initial award
-must have applied for admission to The University of Iowa and declared physics or astronomy as a major
Tribute Award – January 31
Any current high school Senior who meets the following qualifications is eligible:
-Is enrolled in an accredited public or private high school in the United States
-Has at least 2.75 cumulative grade point average (GPA) on a 4.0 scale for the 9th and 10th grades
-Demonstrates accomplishments in Leadership and Community Service and has faced a significant roadblock or challenge.
-To apply online, go to https://www.discover.com/student-loans/scholarships/award.html
ANNOUNCEMENTS
Benefit Spaghetti Supper
A Benefit Spaghetti Supper will be held on February 2nd, at the Viking Center, 4:00 PM-8:00 PM. Meal will be spaghetti, breadstick, salad, drink, and dessert. Event is hosted by the Stanton Class of 2014 and Class of 2016. There will be a fundraising bake sale during the supper. Cost is a free will donation. All proceeds will go the memorial funds of Lisa Hammargren and Cassie Williams. To donate money or baked goods to the supper please contact: Macy Elwood at 712-370-1480 or Allison Aufdenberg at 712-829-2355 or 402-890-2196.
Stanton Strong Bracelets
Stanton Strong Bracelets are available in the high school and elementary offices. The cost of each of the white and purple rubber bracelets is $5.00. The bracelets are imprinted with "Stanton Strong". Proceeds from the bracelets will go to the Hammargren and Williams families. The bracelets will also be available for purchase at the Lisa Hammargren and Cassie Williams Benefit Spaghetti Supper on February 2nd. If interested in purchasing bracelets, please send the money with your student to the high school or elementary office.
WinterJAM is here!!
The Stanton Covenant youth group is planning to attend WinterJam in Council Bluffs, at the MidAmerica Center, on Thursday evening January 24th. There are no tickets; it's only $15 at the door. Students interested in going will meet at the Stanton Covenant Church after school and need to bring money for a quick supper stop and the concert.
We will leave Stanton by 4:00 PM, stop in Glenwood at McDonald's for supper, then proceed to Council Bluffs.The concert is over by 11:30 PM, and we will head back to Stanton at that time. Parents should plan on picking their students up at the Stanton Covenant church between 12:30-12:45 AM. Youth group leaders realize this is a school night and a late hour; every effort will be made to return by this time.
Adult volunteers will provide transportation and supervision for this outing.
Wintertainment
Winter camp is just around the corner! Twin Lakes offers a weekend camp during the winter just for junior/senior high students! While at Wintertainment, they will get to experience all the winter fun and activities camp has to offer, grow in their faith, and make new friends.
If you want to know more, check out their website www.twinlakesbiblecamp.org/. You can click on the Wintertainment icon to learn more about winter camp. You can also get a jump start on checking out summer camp too!!
The date for Wintertainment 2019 is Friday, February 1st--Sunday February 3rd. Cost for this camp is $125 per student; however, the Covenant church will provide $25 per student toward that fee. If additional monetary help is needed, please contact Pastor Matt King. Scholarship funds are available through the church.
Adult volunteers from the Stanton Covenant church will provide transportation to and from the camp for any students needing a ride. We will meet at the Stanton Covenant Church after school on Friday February 1st and leave by 4:00 PM. We will return Sunday afternoon February 3rd, between 3:30-4:00 PM. Any student interested in attending this camp needs to have their registration forms filled out and remaining payment ready to go before departing for camp.
Camp is such a great experience! Thank you for taking the time to check this out & consider sending your student to camp! If you have addition questions, you can contact Matt King or Shawna Olson.
Booster Club Meal
Stanton Booster Club will be serving chilli, potato & ham soup with cinnamon rolls and a drink on January 25th from 5:00-6:30 PM in the high school concourse. Cost is $5.00. There will be carry out available.
Stanton Strivers 4-H Club Sub Sandwiches
February 3rd is SUPER BOWL SUNDAY. Let the Stanton Strivers 4-H Club make sub sandwiches for your football party!!
Two 6" Sub Sandwiches $5.00
White or Wheat
Ham, Turkey or Roast Beef
American, Cheese, Lettuce, Onion, Pickles
Pick them up between 1:30-2:30 PM on Super Bowl Sunday, February 3rd, at Mamrelund Lutheran Church. Please contact a Stanton Strivers 4-H Club member to order.
PTSO Meeting
The PTSO will have a board meeting on Thursday, January 24th, 5:30 PM in the high school library. Anyone is welcome to attend! If you would like more information about PTSO, or would like to be added to our e-mail list please send a message to ptso@stantonschools.com.
COMING EVENTS
Monday, 21st 1:05/1:15-Early Dismissal
5:00-Junior Varsity Boys at Heartland Christian at ISD
6:00-Varsity Basketball at Heartland Christian at ISD
Tuesday, 22nd 4:00-Junior High Basketball at Essex
4:30-Junior Varsity Boys Basketball with Essex, Here
6:00-Varsity Basketball with Essex, Here
Friday, 25th 4:00-Junior Varsity Girls Basketball with Fremont-Mills, Here
4:30-Junior Varsity Boys Basketball with Fremont-Mills, Here
5:00-Booster Club Meal
6:00-Varsity Basketball with Fremont-Mills Parents' Night
Saturday, 26th 6:00-8:00-Junior High Winter Ball
8:30-11:00-High School Winter Ball
BREAKFAST MENUS JANUARY 21-25
Monday

Pancakes

Muffin/Fruit

Juice/Milk

Tuesday

Omelet

Toast

Muffin/Fruit

Juice/Milk

Wednesday

Sausage Gravy Pizza

Muffin/Fruit

Juice/Milk

Thursday

Waffle

Muffin/Fruit

Juice/Milk

Friday

Scrambled Eggs

Sausage Pattie/Toast

Muffin/Fruit

Juice/Milk
LUNCH MENUS JANUARY 21-25
Monday

Rib/Hot Dog

Baked Beans

Tri-Tater

Mandarin Oranges

Pineapple

Milk

Tuesday

Ham & Potato Casserole

Green Beans

Peas

Pears

Apple

Roll

Milk

Wednesday

Italian Burger

Smiley Potatoes

Baked Beans

Oranges

Mixed Fruit

MIlk

Thursday

Chicken Pot Pie

Cheesy Broccoli

Cooked Carrots

Applesauce/Peaches

Butter Sandwich

Milk

Friday

Chicken Pattie/Bun

Lettuce/Tomato

Mixed Vegetables

Tomato Juice

Strawberries

Mandarin Oranges

Milk
It is the policy of the Stanton Community School District not to discriminate on the basis of race, color, national origin, sex, disability, religion, creed, age (for employment), marital status (for programs), sexual orientation, gender identity and socioeconomic status (for programs) in its educational programs and its employment practices. There is a grievance procedure for processing complaints of discrimination. If you have questions or a grievance related to this policy please contact Mrs. Sheila Mainquist, 605 Elliott St., Stanton, Iowa 51573, smainquist@stantonschools.com, (712) 829-2162.