STANTON COMMUNITY SCHOOL BULLETIN APRIL 26, 2019
PICK UP ZONE
All STUDENTS, Kindergarten-12th, who are picked up after school are to be picked up in the "Pick Up Zone" upon dismissal. Parents are asked to use the drive that is west of the Viking Center and proceed around the back of the Viking Center and then pull in to the "Pick Up Zone" which is located in the drive between the High School building and the Viking Center. Thank you for your understanding!
SCHOOL ACTIVITIES
A Night in Hollywood–Junior/Senior Prom
The Junior Class has been busy planning the big night of prom for the past several months. This year's theme is "A Night in Hollywood". Prom will be held on Saturday evening, April 27th. Everyone is invited to watch walk-in which will commence at 6:30 PM. Walk-in will be held in the upper parking area near the high school building entrance. There will be bleachers to accommodate the on-lookers but please feel welcome to bring a lawn chair to watch as the Juniors and Seniors and their dates make their entrance into the school. Julie Strickland of Strickland Photography will take pictures beginning at 4:00 PM that afternoon. Students will sign up in the office for a time. We ask that no parents, siblings or friends are in the picture area when the couples are being photographed. No other picture taking is permitted at that time. We ask that the juniors and seniors and their guests visit the care center at 5:30 PM. The meal will be served at approximately 7:15 PM with the dance to begin at 8:30 PM. We ask that only prom-goers and invited guests are in the concourse/gym area after the walk-in. If you want to take pictures of your child/date, please do so prior to this time. After-prom activities will conclude the evening. The Juniors and Seniors are looking forward to a fun-filled and safe evening and hope to see you all at walk-in!
helped us out.
Limited Number of Yearbooks Left
There are a limited number of the 2019 "COLOR Y(OUR) WORLD" yearbooks left for sale. The cost of the book is $60. Contact a yearbook staffer to order and pay for your book or call the high school office at 712-829-2162.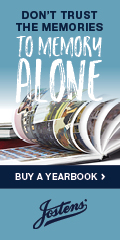 You may also purchase your yearbook online with a credit card. To order online, go to www.stantonschools.com and click on the picture that you see to the left. That will take you to shopjostens.com where you can purchase your book.
You can personalize your yearbook as follows:
Icons (up to 4) for $3.50
One line of personalization for $6.00
Regardless of which method you use to order, the book has lots of colorful moments that the staff has worked very hard on so don't
miss out on a great "COLOR Y(OUR) WORLD" book about Stanton High School.
Stanton's Kindergarten Round-Up
Stanton Elementary School will conduct kindergarten assessments on Friday, May 3rd, for any child who will be five years of age on or
before September 15, 2019. We will follow a new format for the screening this year.
On Thursday, May 2nd, parents of incoming kindergarten students will meet at 4:30 PM in the elementary concourse. Our kindergarten teacher, Mrs. Henneman, and our principal, Mr. Blunt, will present information about the kindergarten curriculum, school policies, etc. Mrs. Elizabeth Shirley, the school nurse, will also be present to go over health requirements and paperwork needed for incoming kindergarten students. At this time, parents will sign up for a time to return the following day, May 3rd, with their child for the Kindergarten screening. The screening process and follow-up with parents should
take approximately 20-25 minutes on this date. Registration forms will be sent home with pre-school students the week before the assessment date. We ask that the paper work in the packets be returned on the screening date. We will also require that a current record of immunizations and a copy of the student's birth certificate be provided on May 3rd
Please call Jody at the elementary office at 829-2171 as soon as possible to sign up your child for Kindergarten Round Up and to answer any questions you might have regarding the format for the above dates. If your child will begin kindergarten in the fall and does not currently attend the local pre-school, we ask that you call the above number prior to April 30th so that your child can be added to our student list.
Stanton Elementary Trash Bag Fundraiser
All Stanton Elementary students are taking orders for the trash bags that we have available at the Elementary Office. These bags are twice as thick as Hefty bags and are available in 3 sizes:
Blue 55 gallon super-size 16 bags per roll
Yellow 39 gallon size 25 bags per roll
White 15 gallon size (kitchen size) 65 bags per roll
The cost of each roll is $10.00 and is due at the time the order is placed with an elementary student. Checks should be made payable to Stanton School. All profits from the sales will be used to purchase classroom and technology materials. Please call the elementary office at 829-2171 with any questions or to place an order! Thank you for your support!
ATHLETICS
High School Girls/Boys Golf
The Essex/Stanton girls golf team competed in a dual meet on April 18th vs Sidney and came away with the victory. Individual performances from Stanton girls included Allie Sandin, 54, and 2nd overall, Savanna Moffett, 56, and 4th overall, and Hannah Elwood,
75, and 11th overall. Competing in the JV Meet from Stanton was Shelby Brockshus who shot a 67 overall. The boys team also competed on the same day in a Triangular with Sidney and East Mills. As a team they finished second and Andrew Hammargren shot a 67 to place 16th overall.
High School Boys Track
The boys' varsity track & field team continues to improve! Most recently, on Tuesday, April 23rd, the team scored 97 points and finished in 3rd place. A great effort was given by everyone on the team! The team earned 1st place finishes in the high jump at 5' 10" (Jack Roberts), 4x200 relay (Brett Silva, Thomas Bates, Jack Roberts, Will Roberts). We are officially half way through the meet portion of the season with the Conference meet next Tuesday and the state qualifying meet the week after. Go Vikings!
Junior High Girls Track
The Stanton Junior High girls track team competed in Hamburg Wildcat Jr High Invitational on Tuesday, April 23rd. The team scored 114 points and placed third out of the 6 teams participating. Abby Burke and Leah Sandin cleared 4-4 in the high jump for a first place tie finish in the event. Marleigh Johnson placed second in the long jump and teammate Addison Olson placed fifth. In the discus event, Brooklyn Silva threw her personal best with a 72'-4" for second and Jenna Stephens placed sixth in the event. In the shot put, Jenna Stephens placed fifth.
First place finishers in the running events were: Shuttle hurdle relay (Marleigh Johnson, Brooklyn Silva, Abby Burke, Elly McDonald) and Marleigh Johnson in the 200m hurdles (with her best time of the year). Addison Olson turned in the another winning performance in the 400 m dash. The Sprint Medley team of (Elly McDonald, Leah Sandin, Brooklyn Silva and Addison Olson raced to a first place as well. Second place finishes on the night were the 4 x 200 team (Leah Sandin, Abby Burke, Carli Smith and Elly McDonald). The 4 x 400 team (Carli Smith, Addison Olson, Emily Adams, Carly Roberts), the 4 x 100 team (Brooklyn Silva, Abby Burke, Leah Sandin and Marleigh Johnson) and Carly Roberts in the 1500 m run were third place ribbon winners. The 4 x 800 team of Carly Roberts, Dacey Henneman, Victoria Miner and Jenna Stephens placed fourth and Emily Adams turned in her best time of the year in the 800 m run (3:08.06). Emily also placed sixth in the 400 m run. The team will compete in Essex on Thursday and Tabor on Friday to complete the week. Next week, the girls will compete in Corning on Friday, May 3rd. The girls continue to work hard to improve their times and finishes and look forward to finishing the season with strong performances. Thank you for your continued support!
GUIDANCE
Scholarships
Montgomery County Pheasants Forever Scholarship-due April 27
-$250 scholarship
-must be a senior planning to attend a college or trade school requiring more than one semester
-Qualifications include a one page or less, word processed, essay summarizing your appreciation of conservation, wildlife, and the outdoors.
-All students are encouraged to apply
Good Samaritan Society Healthcare or Spiritual Ministries Scholarship
-Application MUST BE RECEIVED by April 30
-High School Senior that is graduating in the 2018/2019 academic school year
-Accepted into a program leading to an associate or baccalaureate degree in nursing/related field or in religion/spiritual ministries
-Students pursuing C.N.A. certification are also eligible to apply.
Pearl Hull Falk Scholarship – May 1
-Must be of the Protestant
-Must be a resident of the State of Iowa
-Must be a full-time student at the University of Iowa
DMACC Scholarships –
May 3 Online only @ 4 p.m. (CST) [Application will open on 1/2/19]
https://dmacc.edu/foundation/Pages/application.aspx
Robert D. Blue Scholarship - due May 10 - Online
-The applicant must be an Iowa resident planning to attend an Iowa college/university during the 2019-2020 school year.
-The applicant can be a current high school senior or someone already enrolled in a college/university.
-Select an individual from your community (not a family member) that has demonstrated the responsibilities of being a citizen of a community. Write a 500-word essay on what this individual has done for his/her community.
-Each applicant is "graded" upon their high school GPA, financial need, references, and their essay.
-Application is available only online at http://www.rdblue.org/scholarship/
ANNOUNCEMENTS
Stanton Spring Clean Up
The City of Stanton will have its annual Spring Clean Up on Saturday, April 27th, from 8:00 AM-4:00 PM. Containers will be located at the City Maintenance Building. You may drop off junk, old furniture, wood, appliances, metal and other such items. We will also accept batteries. Please separate metal from other junk as metal will go in a separate trailer. Seniors and disabled citizens who are unable to transport their items can call 829-2613 to arrange for pickup on Friday the 26th from 8:00 AM-3:00 PM. We will NOT accept brush, limbs, trees, or leaves. These items are accepted at the City Dump. Please note: No hazardous waste, explosives, tires, TVs, computers, liquids, paint, railroad ties or raw garbage. The Stanton Greenbelt Trail Cleanup will also be on April 27th starting at 8:30 AM at Anderson Park. Items needed include loppers, chain saws, ATV's and trailers. Cleanup will be from Anderson Park to the Old Gas Station Bridge.
Stanton Adult Prom
You're invited to the Stanton Adult Prom on Saturday, May 4th, from 8:00 PM-Midnight at the Stanton Old Lumberyard. This is a Stanton 150 Fundraiser for the Stanton Daycare, Walking Trail and Downtown Façade. Cost is $10 with snacks provided. Be sure to vote from Prom King & Queen! The couple with the most donations by 10:00pm on May 4th will win. Couples include: Caleb & Jenny Gettler, Nate & Kristi Elwood, Dan & Stacy Kutzli, Chris & Lacey Stephens, Cameron & Morgan Lewellen, and Dan & Katie Elwood. Place your donation in an envelope, seal it and write the name of the couple you want your vote to go towards on the outside. Boxes are located at Great Western Bank and Farmers Mutual Telephone Company in Stanton from April 29th-May 3rd as well as at the Adult Prom from 8:00 PM-10:00 PM. Join us for dancing, fun and memories!
PTSO Plant Sale
PTSO Plant Sale will be Tuesday, April 30th (starting at 11:00 AM) until Friday, May 3rd, in the elementary concourse. The money raised will be used to help fund projects for the upcoming school year. Plant Sale hours will be Tuesday 11:00 AM- 4:30 PM, Wednesday 7:30 AM-4:30 PM, Thursday 7:30 AM-4:30 PM, Friday 7:30 AM-3:30 PM. Thank you for your support!
PTSO Board Meeting
The last PTSO Board Meeting for the school year will be on Wednesday, May 1st, at 5:30 PM in the high school library. Anyone is welcome to attend. Please contact ptso@stantonschools.com for more information about our organization.
COMING EVENTS
Friday, 26th 4:00-Junior High Track at Fremont-Mills
Saturday, 27th 8:30-High School Boys Golf at Sidney
Jr/Sr Prom
Monday, 29th 2:05/2:15-Early Dismissal
Tuesday, 30th 4:00-High School Girls/Boys Conference Track at Fremont-Mills
Wednesday, 1st 1:00-High School Girls Golf at Sidney
Thursday, 2nd 4:30-High School Boys Track at SW Valley
Friday, 3rd State Large Group Music Festival
4:00-Junior High Track at SW Valley
BREAKFAST MENUS APRIL 29-MAY 3
Monday

Breakfast Pizza

Muffin/Fruit

Juice/Milk

Tuesday

Crescent Roll

Muffin/Fruit

Juice/Milk

Wednesday

Pancakes

Muffin/Fruit

Juice/Milk

Thursday

Omelet

Toast

Muffin/Fruit

Juice/Milk

Friday

Sausage Gravy Pizza

Muffin/Fruit

Juice/Milk
LUNCH MENUS APRIL 29-MAY 3
Monday

Hamburger/Bun

Lettuce/Tomato

Smiley Potatoes

Baked Beans

Mixed Fruit/Cherry Crisp

Milk

Tuesday

Chicken Strips

Mashed Potatoes/Gravy

Cooked Carrots

Oranges/Pineapple

Roll

Milk

Wednesday

Burrito/Hot Dog

Corn

Tomato Juice

Mandarin Oranges

Peaches

Milk

Thursday

Turkey Wrap

Lettuce/Cheese

Mixed Vegetables

Carrots

Pears/Apple

Milk

Friday

BBQ Pork

Coleslaw

Cheesy Broccoli

Pineapple/Applesauce

Chocolate Chip Bar

Milk
It is the policy of the Stanton Community School District not to discriminate on the basis of race, color, national origin, sex, disability, religion, creed, age (for employment), marital status (for programs), sexual orientation, gender identity and socioeconomic status (for programs) in its educational programs and its employment practices. There is a grievance procedure for processing complaints of discrimination. If you have questions or a grievance related to this policy please contact Mrs. Sheila Mainquist, 605 Elliott St., Stanton, Iowa 51573, smainquist@stantonschools.com, (712) 829-2162.