STANTON COMMUNITY SCHOOL BULLETIN FEBRUARY 15, 2019
FROM THE DESK OF SUPERINTENDENT
Dear Parents and Guardians;
We have had an unusual amount of missed school days so far this winter. I know you are aware that we will be making up two of those days on February 18th with a 1:05/1:15 dismissal and April 23rd with a 3:10/3:18 dismissal. This leaves us with several more days to be made up. At this time, starting on Monday, February 25th, we are planning to add one hour to Mondays through the end of the school year. Because the state of Iowa allows hours to be added up for the missed school days, by adding an hour on Mondays we will make up two more days. School will be dismissed in the elementary at 2:05 and the high school at 2:15. The remaining days that need to be made up will be added to the end of the year. I hope the worst part of winter has passed us, but it is still possible to miss more school days. If we miss more school, we may need to reevaluate our plan.
SCHOOL ACTIVITIES
All-State Speech Festival
The Stanton High School speech team will travel to the All-State Large Group Festival at Iowa State University on February 16th. The radio broadcasting team of Nick Mueller, Mallorie Wookey, Devin Isaacson, Brooklyn Adams, Bethany Goodemote, and Anika Wenstrand will be performing their space theme production of LUNR. There will be more information sent out to the students soon. Please stay posted on the details. Congratulations to the students on this high achievement! Best of luck at All-State!
Individual Speech
The students for individual speech are practicing away for the upcoming contests. Their first performance will be the Corner Conference Speech Contest on February 20th. Then on Saturday February 23rd, the students will be at Shenandoah High School for District Individual Speech Contest.
All-School Play
The Stanton High School will be performing "Par of the Corpse" by Craig Sodaro. (Produced by special arrangement with Pioneer Drama Service, Inc., Englewood, Colorado) The play will be on March 1st at 7:00 PM. Please make plans to attend!
Yearbook Sales
The 2019 "COLOR Y(OUR) WORLD" yearbook went on sale January 25th. The cost of the book is $60. Contact a yearbook staffer to order and pay for your book or call the high school office at 712-829-2162.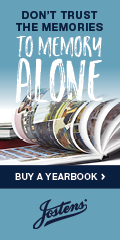 You may also purchase your yearbook online with a credit card. To order online, go to www.stantonschools.com and click on the picture that you see to the left. That will take you to shopjostens.com where you can purchase your book. This link went into effect starting January 25th.
You can personalize your yearbook as follows:
Icons (up to 4) for $3.50
One line of personalization for $6.00
Regardless of which method you use to order, the book has lots of colorful moments that the staff has worked very hard on so don't miss out on a great "COLOR Y(OUR) WORLD" book about Stanton High School.
Red Cross Blood Drive
The next Red Cross Blood Drive, sponsored by FCCLA, will be held on Friday, March 15th, from 8:00 AM-2:00 PM. Please put that on your calendar and help our students with scholarship money. Every day, hospitals provide lifesaving blood to patients in need.
Conference Art Fair
The Conference Art Fair will be held in Essex on March 30th-April 1st. Public viewing will be held on Saturday, March 30th, 6:00-8:00 PM, Sunday, March 31st, 1:00-3:00 PM, and Monday, April 1st, 10:00 AM-1:00 PM. Please come out and see what our students have accomplished.
Junior Class Parent Meeting
The Junior class parents will be having a meeting to discuss the Prom meal and how parents will be helping with the meal on February 27th at 7:00 PM in the high school library. All are invited to attend.
Dental Program
In recognition of "National Children's Dental Health Month," students in grades K-5th participated in a program presented by Dr. Kim Truka and Amber Sellers from Dental Care in Red Oak, to promote the benefits of good oral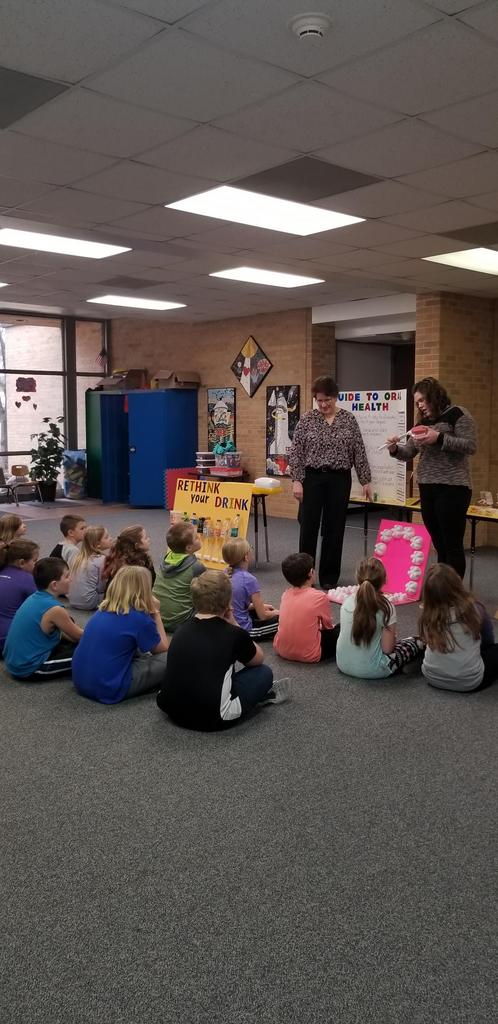 health. Each student was given a toothbrush, toothpaste, and dental floss. Students learned about eating healthy, choosing a healthy drink, and limiting sugary snacks.
ATHLETICS
Viqueen Basketball
Stanton Viqueens (11-11) ended their season with a first-round district loss at Murray (14-7) on February 7th, 44-43. The exciting match found the Queens up at half 25-22. Coach Snyder said, "Being on a 50 point pace for the game at half time, I felt good as we had scored 50+ points per game on our little 4 game win streak late in the season". The formula for the Queens down the stretch outside of a glitch vs Lenox was decent shooting and scoring in the 50's. Wins against Heartland Christian, Fremont-Mills, Essex, and South Page heading into Districts seemed to be the springboard the Queens were looking for to gain that first-round victory. "We were able to deal with their scoring run early on and made a run ourselves then settled in and played," said Coach Snyder. Stanton struggled to rebound missed Murray shots at times as Murray's lineup was taller at times.
The contest would remain close throughout the second half with 5 points being the largest lead held by the Queens in the third frame, only to have Murray take a 33-32 advantage at the quarters' end. In the fourth Stanton down 39-42, Hope Ogletree would make two trips to the free throw line and go 4 for 4 to put Stanton up 43-42 with under a minute remaining. The teams would exchange possessions putting the ball in Murray's hands with 11 seconds to go. Murray would rely on their go-to scorer, Breianna Klein to drive the length of the court for the winning field goal.
The Queens were led in scoring by Kami Tibben with 16, Hope Olgetree 13, and Kaitlyn Bruce 8 points. Kami also added 14 rebounds.
Junior High Girls Track
The junior high girls track team will begin practice on Monday, February 25th. The week of February 25th and the week of March 4th, the team will conclude practice at school dismissal time daily (3:18 PM). Beginning Monday, March 11th, the team will practice 8th hour and after school until 4:15 PM daily. The first track meet for the team is scheduled for Tuesday, April 9th, as we host our Jr. Viking and
Viking relays at home. Meet schedules will be sent home with the girls the first week of practice.
GUIDANCE.
Scholarships
Iowa Financial Know-How Challenge: Senior Scholarship - Feb. 22
-http://www.iowastudentloan.org/SeniorScholarship
-Complete online financial tutorials and a related online assessment created by Iowa Student Loan.
Buick Achievers Scholarship Program – Feb 28
-Be high school seniors or be current undergraduate students
-Plan to enroll in full-time undergraduate study at an accredited U.S. four-year college or university for the entire 2017–18 academic year
-Be interested in pursuing a career that focuses on engineering, technology, design or business, with an interest in the automotive industry
-Be U.S. citizens and have permanent residence in the United States
Iowa Scholarship For The Arts Iowa Arts Council Due March 1 On-Line
-The Iowa Scholarship for the Arts supports the development of outstanding high school seniors who excel in the arts and are enrolled in accredited educational programs leading to careers in the arts. Scholarships in the amount of $1,500 are awarded https://iowaculture.gov/arts/opportunities/arts-recognition/iowa-scholarship-for-the-arts
Mark Earl and Esther Ruth Spencer Technical Scholarship (MCEC Technical Scholarships) – due March 1
-$1,000
-plan to enroll in a mechanical or trade course of study at an accredited Iowa community college
-applicant's academic record, communication skills, financial need and plans for the future are considered carefully
https://grandlodgeofiowa.org/wp-content/uploads/2018/08/MCECScholarshipApplication2019.pdf _Application.pdf – click on "MCEC Scholarship Form in PDF" - or see Mrs. Mainquist
Page County Farm Bureau – due March 1
-applicant must be from a Farm Bureau member family
-must have at least a 3.0 grade point average
-scholarship available only to those entering professions or vocations requiring at least a minimum of two years of college
Iowa Farm Bureau Federation Scholarship Program-due March 1
-must be a son and/or daughter of an Iowa Farm Bureau member
-must be accepted by or enrolled in an accredited college or university or community college
-must be a high school senior or a college freshmen, sophomores, juniors or seniors in a 2 or 4 year accredited college or university
-students must maintain a minimum 2.5 grade point average throughout their college career to continue to qualify for this scholarship
-applicants must be working toward a degree in one of the following occupational areas of agriculture and/or agribusiness: (1) Production, (2) Horticulture, (3)Sales and Service, (4)Products and Processing, (5) Forestry, (6)Conservation, (7)Mechanization, (8) Research, (9) Economics, (10) Education and (11)Ag Health
-Apply at
https://www.iowafarmbureau.com/page/file?path=Files%2Fpage-10%2F18AFBFApp.pdf
Governor Terry E. Branstad Iowa State Fair Scholarship - due March 1
https://www.iowacollegeaid.gov/content/iowa-state-fair-scholarship
-four scholarships ranging up to $5000
-must actively participate at the Iowa State Fair (past or present)
-must be a graduating senior from an Iowa high school
-must plan to enroll at an Iowa college or university
Southwest Iowa Rural Electric Cooperative Scholarship–March 1
http://www.swiarec.coop/content/scholarships
- $500 scholarships
-Scholarships are for graduating seniors whose parents/guardians are members of Southwest Iowa Rural Electric Cooperative and reside in their service territory.
-Special consideration will be given to any student attending an accredited lineman school.
-application may be downloaded at www.swiarec.coop
The Foundation for Rural Services (FRS) College Scholarship Program – due March 1 https://www.frs.org/programs/scholarships
-must be a graduating high school senior
-must have existing telephone service with Farmers Mutual Telephone Company (prefix number of 585,586, 829, 785 or 826)
-must be accepted by an accredited two- or four-year college, university or vocational-technical school
-must have at least a C grade point average
-express an interest to return to a rural community following graduation
-applications must be sponsored by Farmers Mutual Telephone Company and bear Kevin Cabbage's signature
Iowa Automobile Dealers Foundation for Education Scholarship - due March 1 Available in Dec.
http://www.iada.com/FoundationForEducation.aspx
-awarded to graduating seniors interested in the pursuit of automotive or truck-related studies, such as technician training, body shop/collision repair, diesel, new vehicle sales, parts sales, accounting, or business administration.
ANOUNCEMENTS
Made From Scratch Pop Up Café
Make your reservations for dinner at the Made From Scratch Pop Up Café in Stanton at the Senior Center on Broad Street for Saturday, February 16th, 5:30 PM-8:00 PM. Proceeds will help in purchasing a new furnace for Stanton Senior Center. Call Terri at 712-370-3727 for reservations.
JHUG and CYO
JHUG & CYO will meet Sunday, February 17th, at 5:30 PM in the Mamrelund Lutheran Church for games/movie night. Food will be provided. Bring a friend and come join the fun!
PTSO Meeting
The PTSO will have its rescheduled board meeting on Thursday, February 21st, at 5:30 PM in the high school library. Anyone is welcome to attend! Please e-mail ptso@stantonschools.com for more information.
American Legion Post #406 Benefit
The American Legion Post #406 will be having a Sausage Gravy and Biscuit Supper on Sunday, February 24th, at the Legion Hall, 314 Broad Ave., Stanton, at 5:00-7:00 PM. Proceeds to be used for legion community projects.
COMING EVENTS
Saturday, 16th All State Large Group Speech at ISU
Monday, 18th 1:05/1:15-Early Dismissal
Tuesday, 19th 6:30-Boys District Basketball at Fremont-Mills
Wednesday, 20th Conference Speech Contest at Heartland Christian
Thursday, 21st Junior High Conference Science Fair at Fremont-Mills
7:00-Boys District Basketball at Riverside
Friday, 23rd District Individual Speech Contest at Shenandoah
BREAKFAST MENUS FEBRUARY 18-22
Monday

Scrambled Eggs

Sausage Pattie

Toast

Muffin/Fruit

Juice/Milk

Tuesday

Breakfast Bar

Muffin/Fruit

Juice/Milk

Wednesday

Pancake & Sausage

on a Stick

Muffin/Fruit

Juice/Milk

Thursday

Fruit Pocket

Muffin

Juice/Milk

Friday

Donut Holes

Muffin/Fruit

Juice/Milk
LUNCH MENUS FEBRUARY 18-22
Monday

Crispito/Hot Dog

Corn

Lettuce

Mandarin Oranges

Peaches

Peanut Butter Sandwich

Milk

Tuesday

Chicken Nuggets

Coleslaw

Baked Beans

Pineapple

Oranges

Banana Muffin

Milk

Wednesday

Ham Sandwich

Cheese Slice

Lettuce/Tomato

Peas/Green Beans

Peaches/Mixed Fruit

Rice

Milk

Thursday

Chicken Wrap

Lettuce/Cheese

Mixed Vegetables

Cooked Carrots

Applesauce

Mandarin Oranges

Milk

Friday

Shrimp Poppers

Coleslaw

Smiley Potatoes

Apple

Pears

Peanut Butter Sandwich

Milk
STANTON COMMUNITY SCHOOL
PATRON NOTIFICATION OF
OPEN ENROLLMENT REQUIREMENTS
Parents/guardians considering the use of the open enrollment option to enroll their child/ren in another public school district in the state of Iowa should be aware of the following dates:
March 1, 2019—Last date for regular open enrollment requests for the 2019-2020 school year for students in grades 1-12.
September 1, 2019—Last date for open enrollment requests for entering kindergarten students and those students falling under the "good cause" definition for the 2019-2020 school year.
Parents/guardians of open enrolled students whose income falls below 160% of the federal poverty guidelines are eligible for transportation assistance. This may be in the form of actual transportation or in the form of a cash stipend.
Parents should be aware that open enrollment may result in the loss of athletic eligibility.
For further details, contact the school office at 712-829-2162.
It is the policy of the Stanton Community School District not to discriminate on the basis of race, color, national origin, sex, disability, religion, creed, age (for employment), marital status (for programs), sexual orientation, gender identity and socioeconomic status (for programs) in its educational programs and its employment practices. There is a grievance procedure for processing complaints of discrimination. If you have questions or a grievance related to this policy please contact Mrs. Sheila Mainquist, 605 Elliott St., Stanton, Iowa 51573, smainquist@stantonschools.com, (712) 829-2162.