STANTON COMMUNITY SCHOOL BULLETIN MARCH 1, 2019
SCHOOL ACTIVITIES
Corner Conference Band Festival
On March 12th, thirteen Stanton band students will be participating in the Corner Conference Band Festival in Stanton. These students will be performing in a 7:00 PM concert in the Stanton gym with other students from the Corner Conference. The following students are participating: Carly Roberts, Dacey Henneman, Abby Burke, Addison Olson, Elly McDonald, Jenna Stephens, Evan Hopf, Leah Sandin, Kaitlyn Bruce, Charles Davis, Cameron Sallach, Devin Isaacson, and Levi Martin.
Red Cross Blood Drive
The next Red Cross Blood Drive, sponsored by FCCLA, will be held on Friday, March 15th, from 8:00 AM-2:00 PM. Please put that on your calendar and help our students with scholarship money. Every day, hospitals provide lifesaving blood to patients in need.
Conference Art Fair
The Conference Art Fair will be held in Essex on March 30th-April 1st. Public viewing will be held on Saturday, March 30th, 6:00-8:00 PM, Sunday, March 31st, 1:00-3:00 PM, and Monday, April 1st, 10:00 AM-1:00 PM. Please come out and see what our students have accomplished.
Junior Class Parent Meeting
The Junior class parents will be having a meeting to discuss the Prom meal and how parents will be helping with the meal on March 13th at 7:00 PM in the high school library. All are invited to attend.
Individual Speech
The students for individual speech were in action this week for speech contest. They first performed last Thursday for the Corner Conference Speech Contest, which was held at South Page High School. Then on Wednesday February 27th, the students competed at Shenandoah High School for District Individual Speech Contest. Please stay posted to the school's Facebook page for more information.
All-School Play
The Stanton High School will be performing Par of the Corpse by Craig Sodaro. "Produced by special arrangement with Pioneer Drama Service, Inc., Englewood, Colorado". The play will be tonight at 7:00 PM. Please make plans to attend!
This mystery-comedy takes place at an exclusive golf resort, pro golfer Teddy Masters is ready to help guests perfect their swings. When Joy Draper of dating service Harmonosity takes a crew of singles to the resort, one of her clients turns up dead. It's a good thing Joy's assistants, Sybil and Ann, study criminology at the local college (they already have two classes under their belt!). They begin an investigation of the suspects, including: the owner's niece isn't, a washed-up fashion model, a scientist obsessed with chaos theory, a Montana cowgirl, a stuffy professor of literature, a Star Wars geek and a hypochondriac. A second death confirms her suspicions, but the scorecard of murders just doesn't add up! Could there be more than one murderer on the green?!
Elementary Musicals
Stanton's K-3rd graders don't lock up any animal at their fun-filled farm. The cows are "udderly" the best and their chorus line will prove it to you! The neatnik pigs never make a stink. Their gourmet goats have attitude and only eat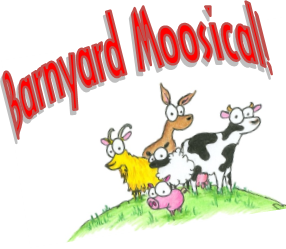 the finest food. To top it off, their chickens are always shaking a leg and doing the "funky chicken strut." Come attend the K-3rd grade performance of "A Barnyard Moosical" on Friday, March 8th, at 7:00 PM and meet all their barnyard friends! Admission is $5 for adults and $3 for students.
Pirates are very bad people. Make no mistake! They rob innocent peasants as well as sing bawdy songs hardly ever in tune. Yes, pirates are very bad people, but a stowaway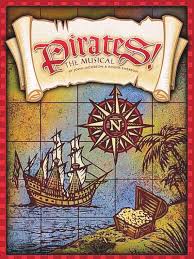 aboard Stanton's 4th-6th grade pirate ship really wants to be one. It has been a dream of hers ever since she was a child. When the pirates are getting ready to set sail to the pirate singing contest in the big pirate sea, the stowaway sneaks on board hoping the pirates will let her become a pirate just like them. Will she become a pirate or be sent to Davy Jones' Locker? Come attend the 4th-6th grade performance of "Pirates! The Musical" on Friday, March 8th, at 7:00 PM. and find out! They will be performing after the K-3rd grade performance of "A Barnyard Moosical." Admission is $5 for adults and $3 for students.
ATHLETICS
Junior High Girls Track
The junior high girls track team will begin practice on Monday, February 25th. The week of March 4th, the team will conclude practice at school dismissal time daily (3:18 PM). Beginning Monday, March 11th, the team will practice 8th hour and after school until 4:15 PM
daily. The first track meet for the team is scheduled for Tuesday, April 9th, as we host our Jr. Viking and Viqueen relays at home. Meet schedules will be sent home with the girls the first week of practice.
GUIDANCE.
Iowa Statewide Assessments of Student Progress (ISASP)
The Stanton Community Schools will administer the Iowa Statewide Assessments of Student Progress beginning Tuesday, March 5th, to all students in grades 7th-11th and March 11th-15th for 3rd-6th.
The Iowa Statewide Assessment of Student Progress is aligned with the Iowa Core standards, providing a clear and accurate assessment of student learning outcomes. Just as in the everyday school activities, you can help your child do their best by seeing that he/she is fully rested.
Since this is a new test the scores will not be returned to the school until fall.
Scholarships
Bank Iowa Spirit Of Chandy Scholarship Application Form
Deadline: Applications must be brought into a Bank Iowa location or emailed to marketing@bankiowa.bank by March 5
Applicants for the Bank Iowa Spirit of Chandy Scholarship must be high school seniors who plan to enroll in a full-time undergraduate course of study at an accredited four-year college or university, or a two-year junior or community college in the fall following graduation. This scholarship program is available to Bank Iowa customers and non-customers. Preference will be to students who participate in the activities Chandy loved: swimming in particular, as well as biking, running and flying.
Bank Iowa will award a $500 scholarship to two deserving high school students in each of its seven regions, for a total of 14 scholarships granted annually.
Elks Vocational Scholarship – March 8
-$500
http://iowaelks.org/index.php/forms/
-Designated for students who will be pursuing a 2 year or less vocational training education or program
-The student does not need to be a relative of an Elks member. It is open to all students that meet the criteria.
Dennis Lloyd Scholarship
-due March 10
-$5,000
-for students interested in graphic art or journalism.
This scholarship is renewable for 4 years,
provided the student maintains a "C" or above average in college. Applicant must include transcript with application.
Letters of recommendation are encouraged.
LOCAL STANTON SCHOLARSHIPS - due March 11
Double Dozen Scholarship - Academics, character, leadership and potential for growth and success.
Duane Falk Scholarship - Based on academics, leadership, and participation in school and community activities. Number and amount designated annually.
Larmon Scholarship - Based on academics excellence and achievement in school and community activities. Number and amount designated annually.
American Legion Scholarship - Sponsored by the American Legion and Legion Auxiliary. Based on academic and leadership accomplishments. Must be a relative of a veteran.
National Honor Society Scholarship - One member---one non-member. Based on classes taken and grades. $100.00 each
Stanton Faculty and Administrators Scholarship - Must be going into an education field.
Stephanie (Peterson) and Christopher Stein Scholarship – April 1 - Must be attending Iowa State University. Based on moral character, attitude, leadership, activities in school, and community service. Number of scholarships designated annually. $500
Ashley and Brooke Maley Memorial Scholarship – April 15 - Amount to be determined yearly. Open to all senior students. Students may be pursuing any type of post-secondary education.
Class of 1963 – One scholarship given to a graduating senior from Stanton Community High School. Students may be pursuing any type of post-secondary education.
Stewart Sisters Scholarship - As alumnae of Stanton H. S., Shauna, Shalée, and ShaRee value the education we received there and feel it is important to give back. Based on academics, leadership, and participation in school and community activities. Open to graduating high school seniors. Submit a local scholarship application. Number and amount designated annually.
Sherie Goodemote Wistrom Memorial Scholarships–due April 15
- One $250 music or medical (nursing) related scholarship will be given. In order to receive the scholarship you must be a graduating senior from Stanton Community High School, you will need to maintain a grade point average of 3.0 and be registered for college the following semester.
Robert E. Johnson Memorial Scholarship - Based on academics, leadership, and participation in school and community activities. $500
Myrna Johnson Memorial Scholarship- Based on academics, leadership, and participation in school and community activities. $500
Brooke Engstrand Scholarship - The Brooke Engstrand scholarship established in the spring of 2013 is intended for seniors planning to further their education in a 4-year or 2-year college program, or a technical school. Brooke had a passion for music and making the most of her life and the opportunities she was given. She was involved in many activities while a student at Stanton Community School, both in and out of school. Her love of horses and for others filled her life with joy and fulfillment. Brooke graduated in 2008 from Stanton High School. The number and amount of scholarships will be determined yearly. Scholarships go to a graduating senior. Submit a local scholarship application, including a letter with personal information, post-secondary education plans, and need for this scholarship.
Darwin L. "Rosy" Rossander Memorial Scholarship–due April 15
-A scholarship has been established in memory of Darwin L. "Rosy" Rossander, a life long Stanton resident and community supporter. Youth, the activities youth were involved in, and the Stanton community were his passion. He attended almost every Stanton school event and loved supporting the Vikings and Viqueens. Rosy was a 4-H leader. He led 4-H shooting sports and enjoyed helping youth improve their skills. Through his American Legion activities he planned and organized numerous community service events and projects, including the veterans' memorial that is on Main Street. The scholarship will be given to a Stanton student with evaluation based on involvement including, but not limited to: athletics, 4-H, choir, and community service activities.
Stanton Masonic Tarkio Lodge #645 A.F.& A.M. Scholarship Endowed Fund -March 21
This scholarship was established in 2018. The scholarship shall be awarded to a graduating senior of Stanton Community Schools. Applicants will submit a local scholarship application, and will include a written letter containing personal information and post-secondary education plans. Based on: Integrity, citizenship, leadership, and participation in school, church, and community activities. Amount to be designated annually. The scholarship money will be available in August of the awarded year.
Iowa Communications Alliance Scholarship Program – March 13 On-Line
-https://www.iacommunicationsall.org/scholarships
-Must be graduating high school senior or student currently enrolled in a two or four-year college/university or vocational technical school
-Receive any local telecommunication service from a RIITA member (have existing telephone service with Farmers Mutual Telephone Company and have a prefix number of 585,586, 829, 785 or 826) and be from a rural area
-Must be accepted/or enrolled by an accredited two or four-year college/university or vocational school
-Must have at least a C grade point average
-Express an interest to live and work in a rural community following graduation
-applications must be sponsored by Farmers Mutual Telephone Company and bear Kevin Cabbage's signature.
Youth Scholarship Program – March 15
-Must have been diagnosed with cancer before the age of 21
-Must be under the age of 25 at the time of application
-Must be a legal resident of Iowa, Minnesota, South Dakota or Wisconsin for at least one year
-Must be accepted to attend an accredited two to four year university or vocational/technical school
-Must complete the application process
IOWA AMVETS - Due March 15
3 - $2000 Scholarships
Given on an annual basis only to graduating high school seniors.
The Scholarships may be used at any accredited college, university, area community technical or trade school.
There are no restrictions as to course of study.
Applicants must be the son, daughter or grandchild of a current Iowa AMVET or new Iowa AMVET member. Stepchildren, foster children and other children dependant upon the member for support, and living with the member in regular parent-child relationship, are eligible.
Darryl Jahn Memorial Scholarship-due March 15 On-Line
http://epsilon.betasigmapsi.org/scholarship/
-Sponsored by Beta Sigma Psi Lutheran Fraternity
-three $1500 scholarships
-given to Lutheran gentlemen entering Iowa State in the Fall of 2019
-applicants will be evaluated on their scholastic achievement and active participation in their communities and churches
ANOUNCEMENTS
American Legion Post #406 Benefit
The American Legion Post #406 will be having a Sausage Gravy and Biscuit Supper on Sunday, March 3rd, at the Legion Hall, 314 Broad Ave., Stanton, at 5:00-7:00 PM. Proceeds to be used for legion community projects.
Hunter Education Class
Hunter Education Class will be held on March 16th and 17th in Shenandoah. Register at www.iowadnr.gov. Any questions or help call Ernie Robinson at 712-621-1682.
COMING EVENTS
Friday, 1st 7:00-All School Play
Monday, 4th 2:05/2:15-Early Dismissal
Wednesday, 6th Conference Quiz Bowl, Here
Friday, 8th 7:00-Elementary Musical
BREAKFAST MENUS MARCH 4-8
Monday

Breakfast Pizza

Muffin/Fruit

Juice/Milk

Tuesday

Crescent Roll

Muffin/Fruit

Juice/Milk

Wednesday

Sausage Gravy

with Biscuit

Muffin/Fruit

Juice/Milk

Thursday

Pancakes

Muffin/Fruit

Juice/Milk

Friday

Omelet

Toast

Muffin/Fruit

Juice/Milk
LUNCH MENUS MARCH 4-8
Monday

Rib/Hot Dog

Baked Beans

Tri-Tater

Mandarin Oranges

Pineapple

Milk

Tuesday

Chicken Alfredo

California Vegetables

Lettuce

Pears/Apple

Breadstick

Milk

Wednesday

Fish Sandwich

Potato Wedges

Mixed Vegetables

Mixed Fruit

Applesauce

Milk

Thursday

Pork Pattie

Mashed Potatoes/Gravy

Cooked Carrots

Peaches/Oranges

Roll

Milk

Friday

Potato Bar/Hot Dog

Assorted Toppings

Corn

Applesauce

Pineapple

Milk
It is the policy of the Stanton Community School District not to discriminate on the basis of race, color, national origin, sex, disability, religion, creed, age (for employment), marital status (for programs), sexual orientation, gender identity and socioeconomic status (for programs) in its educational programs and its employment practices. There is a grievance procedure for processing complaints of discrimination. If you have questions or a grievance related to this policy please contact Mrs. Sheila Mainquist, 605 Elliott St., Stanton, Iowa 51573, smainquist@stantonschools.com, (712) 829-2162.