STANTON COMMUNITY SCHOOL BULLETIN JANUARY 25, 2019
TWO OF THE SNOW MAKE UP DAYS WILL BE FEBRUARY 18TH AND APRIL 23RD
PRINCIPAL
Notification of Student Absences
Parents must call the high school office (829-2162) or elementary office (829-2171) to report any student absences or to notify the office if a student needs to leave early or arrive late due to an appointment. It is the parent's responsibility to notify the school in a timely manner. All student absences with no notification are unexcused absences on the student's attendance record. Parents can also email Mrs. Elwood at celwood@stantonschools.com or Mrs. Boyer at tboyer@stantonschools.com in the high school office or Mrs. Druivenga at jdruivenga@stantonschools.com in the elementary office to report the above.
SCHOOL ACTIVITIES
Stanton Large Group Speech Results
The Stanton High School large group speech students traveled to district speech contest at Clarinda High School this Saturday, January 19th. The students performed very well throughout the morning and afternoon. Congratulations to the Stanton speech students, who finished the day with all division 1 ratings. The group mime team of Devin Isaacson, Brooklyn Adams, Will Roberts, and Rylan Houston received a division 1 rating. The radio broadcasting team of Andrew Hammargren, Savanna Moffett, Haylie Huddle,
Levi Martin, Ryan Volquartsen, Charles Davis and Hannah Elwood received a division 1 rating. The group improv team of Cameron Sallach, Kegan Sundberg, Sam Lindgren, Ryan Volquartsen, and Charles Davis received a division 1 rating. The radio broadcasting team of Nick Mueller, Will Roberts, Rylan Houston, Brooklyn Adams, Mallorie Wookey, Shelby Brockshus, and Bethany Goodemote received a division 1 rating. The group improv team of Shelby Brockshus, Devin Isaacson, and Savanna Moffett received a division 1 rating. All groups will advance to the state speech contest at West Des Moines Valley High School on Saturday, February 2nd. Students will continue to polish up their speech performances. We would like to thank the excellent support we had at contest from friends, family, and community members! Congratulations to the large group speech students! Good luck at state!!
Winter Ball 2019
The Winter Ball Dance for both Middle School and High School will be held on Saturday January 26th. Middle school (6th-8th grade) will be from 6:00-8:00 PM at the Stanton Fire Station, High School will be from 8:30-11:00 PM. $5 admission per person, all proceeds go to the Stanton Cheerleaders/Dance team.
Yearbook Sales
The 2019 "COLOR Y(OUR) WORLD" yearbook will go on sale beginning January 25th. From January 25th through 31st, the books will cost $50.00 and starting February 1st, the books will cost $60. Contact a yearbook staffer to order and pay for your book.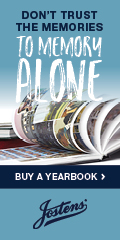 You may also purchase your yearbook online with a credit card. To order online, go to www.stantonschools.com and click on the picture that you see to the left. That will take you to shopjostens.com where you can purchase your book. This link will go into effect starting January 25th.
You can personalize your yearbook as follows:
Icons (up to 4) for $3.50
One line of personalization for $6.00
Regardless of which method you use to order, the book has lots of colorful moments that the staff has worked very hard on so don't miss out on a great "COLOR Y(OUR) WORLD" book about Stanton High School.
Iowa Western Honor Band
Congratulations to Devin Isaacson, Charles Davis, Cameron Sallach, Elly McDonald, and Addison Olson for being accepted to the Iowa Western Honor Band. They will perform with other select students from across the state of Iowa and Nebraska in a concert on January 31st at 7:00 PM.
Swing Choir Luncheon
Swing Choir Soup Luncheon will be Sunday, January 27th, from 11:30 AM-1:00 PM at Mamrelund Lutheran Church. They will be serving Ham & Potato, Broccoli Cheese, and Chicken Noodle. The swing choir will be performing between 12:30 PM and 1:00 PM. Cost is free-will donation.
Driver's Education
Stanton will be starting a Driver's Education class sometime mid-February. Please talk with your student if they are of age 14 or older and have their permit or will be obtaining it before the 1st day of class, they are eligible. If this works for you, have them sign up in the office or give us a call in the high school office at 829-2162. Fees are $315 for in district students and $370 for out of district students.
Thank You
Thank you, Stanton High School, for partnering with the American Red Cross! The blood collected from your most recent blood drive is now on its way to the below hospitals.
GREATER COMMUNITY HOSPITAL
FAITH REGIONAL HEALTH SERVICE
SHENANDOAH MEMORIAL HOSPITAL
BRODSTONE MEM NUCKOLLS CO HOSP
DENVER HEALTH & MEDICAL CENTER
While there may have been other hospitals that benefited from your efforts, the following hospitals received the majority of blood products collected from your drive. Every day, hospitals provide lifesaving blood to patients in need.
ATHLETICS
Parents' Night
Parents' Night will be tonight. Stanton Booster Club will be taking pictures starting at 5:00 PM with the girls and at 5:30 PM with the boys and their parents in the concourse till 6:00 PM.
GUIDANCE.
Scholarships
Strayer-Rairden Scholarship in Physics – January 31
http://www.physics.uiowa.edu/undergraduate-program/undergraduate-scholarships-and-awards/strayer-rairden-scholarship-physics
-$1,000 each year, renewable for up to 3 successive years following the initial award
-must have applied for admission to The University of Iowa and declared physics or astronomy as a major
Tribute Award – January 31
Any current high school Senior who meets the following qualifications is eligible:
-Is enrolled in an accredited public or private high school in the United States
-Has at least 2.75 cumulative grade point average (GPA) on a 4.0 scale for the 9th and 10th grades
-Demonstrates accomplishments in Leadership and Community Service and has faced a significant roadblock or challenge.
-To apply online, go to https://www.discover.com/student-loans/scholarships/award.html
ANNOUNCEMENTS
Benefit Spaghetti Supper
A Benefit Spaghetti Supper will be held on February 2nd, at the Viking Center, 4:00 PM-8:00 PM. Meal will be spaghetti, breadstick, salad, drink, and dessert. Event is hosted by the Stanton Class of 2014 and Class of 2016. There will be a fundraising bake sale during the supper. Cost is a free will donation. All proceeds will go the memorial funds of Lisa Hammargren and Cassie Williams. To donate money or baked goods to the supper please contact: Macy Elwood at 712-370-1480 or Allison Aufdenberg at 712-829-2355 or 402-890-2196.
Stanton Strong Bracelets
Stanton Strong Bracelets are available in the high school and elementary offices. The cost of each of the white and purple rubber bracelets is $5.00. The bracelets are imprinted with "Stanton Strong". Proceeds from the bracelets will go to the Hammargren and Williams families. The bracelets will also be available for purchase at the Lisa Hammargren and Cassie Williams Benefit Spaghetti Supper on February 2nd. If interested in purchasing bracelets, please send the money with your student to the high school or elementary office.
Wintertainment
Winter camp is just around the corner! Twin Lakes offers a weekend camp during the winter just for junior/senior high students! While at Wintertainment, they will get to experience all the winter fun and activities camp has to offer, grow in their faith, and make new friends.
If you want to know more, check out their website www.twinlakesbiblecamp.org/. You can click on the Wintertainment icon to learn more about winter camp. You can also get a jump start on checking out summer camp too!!
The date for Wintertainment 2019 is Friday, February 1st--Sunday February 3rd. Cost for this camp is $125 per student; however, the Covenant church will provide $25 per student toward that fee. If additional monetary help is needed, please contact Pastor Matt King. Scholarship funds are available through the church.
Adult volunteers from the Stanton Covenant church will provide transportation to and from the camp for any students needing a ride. We will meet at the Stanton Covenant Church after school on Friday February 1st and leave by 4:00 PM. We will return Sunday afternoon February 3rd, between 3:30-4:00 PM. Any student interested in attending this camp needs to have their registration forms filled out and remaining payment ready to go before departing for camp.
Camp is such a great experience! Thank you for taking the time to check this out & consider sending your student to camp! If you have addition questions, you can contact Matt King or Shawna Olson.
Booster Club Meal
Stanton Booster Club will be serving chilli, potato & ham soup with cinnamon rolls and a drink tonight from 5:00-6:30 PM in the high school concourse. Cost is $5.00. There will be carry out available.
COMING EVENTS
Friday, 25th 4:00-Junior Varsity Girls Basketball with Fremont-Mills, Here
4:30-Junior Varsity Boys Basketball with Fremont-Mills, Here
5:00-Booster Club Meal
6:00-Varsity Basketball with Fremont-Mills, Parents' Night
Saturday, 26th 6:00-8:00-Junior High Winter Ball
8:30-11:00-High School Winter Ball
Sunday, 27th 11:30-Swing Choir Soup Luncheon
Monday, 28th 1:05/1:15-Early Dismissal
State Swing Choir Contest
Thursday, 31st 4:00-Junior Varsity Girls Basketball with Essex,Here
4:30-Junior Varsity Boys Basketball with Essex, Here
6:00-Varsity Basketball with Essex, Here
Friday, 1st 4:00-Junior High Girls Basketball at South Page
5:30-Junior Varsity Girls Basketball at South Page
5:30-Junior Varsity Boys Basketball at Clarinda Academy
7:00-Varsity Girls Basketball at South Page
7:00-Varsity Boys Basketball at Clarinda Academy
Saturday, 2nd State Large Group Speech Contest at West Des Moines Valley High School
BREAKFAST MENUS JANUARY 28-FEBRUARY 1
Monday

Breakfast Bar

Muffin/Fruit

Juice/Milk

Tuesday

Pancake/Sausage

on a Stick

Muffin/Fruit

Juice/Milk

Wednesday

Fruit Pocket

Muffin

Juice/Milk

Thursday

Donut Holes

Muffin/Fruit

Juice/Milk

Friday

Sausage, Egg, & Cheese

on a Biscuit

Muffin/Fruit

Juice/Milk
LUNCH MENUS JANUARY 28-FEBRUARY 1
Monday

Fiestada

Lettuce

Corn

Pears

Applesauce

Milk

Tuesday

Chicken Alfredo

California Vegetables

Cooked Carrots

Mixed Fruit

Mandarin Oranges

Breadstick

Milk

Wednesday

Stadium Dog

Chili/Cheese

Potato Wedges

Baked Beans

Strawberries & Bananas

Pears

MIlk

Thursday

Pork Pattie

Mashed Potatoes/Gravy

Cooked Carrots

Pineapple

Peaches

Roll

Milk

Friday

Turkey Wrap

Lettuce/Cheese

Mixed Vegetables

Corn

Apple/Mixed Fruit

Butter Sandwich

Milk
It is the policy of the Stanton Community School District not to discriminate on the basis of race, color, national origin, sex, disability, religion, creed, age (for employment), marital status (for programs), sexual orientation, gender identity and socioeconomic status (for programs) in its educational programs and its employment practices. There is a grievance procedure for processing complaints of discrimination. If you have questions or a grievance related to this policy please contact Mrs. Sheila Mainquist, 605 Elliott St., Stanton, Iowa 51573, smainquist@stantonschools.com, (712) 829-2162.