STANTON COMMUNITY SCHOOL BULLETIN MAY 17, 2019
Calendar Changes
Last Day of School
The last day of school will be Friday, May 31st, with an early dismissal at 1:05/1:15 PM. There WILL NOT be an early dismissal on Thursday, May 23rd.
SCHOOL ACTIVITIES
Limited Number of Yearbooks Left
There are a limited number of the 2019 "COLOR Y(OUR) WORLD" yearbooks left for sale. The cost of the book is $60. Contact a yearbook staffer to order and pay for your book or call the high school office at 712-829-2162.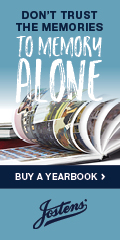 You may also purchase your yearbook online with a credit card. To order online, go to www.stantonschools.com and click on the picture that you see to the left. That will take you to shopjostens.com where you can purchase your book.
You can personalize your yearbook as follows:
Icons (up to 4) for $3.50
One line of personalization for $6.00
Regardless of which method you use to order, the book has lots of colorful moments that the staff has worked very hard on so don't
miss out on a great "COLOR Y(OUR) WORLD" book about Stanton High School prior to May 31st so that your child can be added to our student list.
8th Grade Graduation
This year's 8th grade Graduation will be held on Monday, May 20th, at 7:00 PM in the high school gymnasium. Mr. John Mainquist will be this year's guest speaker. Please join us to celebrate.
Parents of 8th graders: If you are participating in the reception, you will be able to set up your half of the table after school on Monday, May 20th Students will need to be at the school early (usually 6:30 PM) to rehearse their song(s) before the ceremony. If you have any
Questions, please contact Mrs. Erickson at cerickson@stantonschools.com.
Stanton Elementary Trash Bag Fundraiser
All Stanton Elementary students are taking orders for the trash bags that we have available at the Elementary Office. These bags are twice as thick as Hefty bags and are available in 3 sizes:
Blue 55 gallon super-size 16 bags per roll
Yellow 39 gallon size 25 bags per roll
White 15 gallon size (kitchen size) 65 bags per roll
The cost of each roll is $10.00 and is due at the time the order is placed with an elementary student. Checks should be made payable to Stanton School. All profits from the sales will be used to purchase
classroom and technology materials. Please call the elementary office at 829-2171 with any questions or to place an order! Thank you for your support!
ATHLETICS
High School Girls Track
The Viqueens closed out the 2019 track season scoring 24 points at their very tough Regional Meet at Griswold last Friday. Coach Subbert would like to think the parents of the girls and the other fans that supported the team throughout the season. He would also like to thank his six team members for all their efforts and congratulate them on a great season.
Special congratulations to Tara Peterson who will represent Stanton at the State Track Meet this week. Tara broke her own school record at the Regional Meet in the 400 hurdles running a time of 67.34 seconds. She will run the 400 meters in Des Moines on Thursday and the 400 hurdles on Friday. Great job, Tara!
High School Boys Track
The varsity finished their season in Griswold last Friday night for the state qualifying meet. Despite several personal bests, no one qualified for the state meet this year. The team had fun working hard all season and will be posting new personal bests in the weight room as well over the next 2 weeks. We will have many talented and younger athletes returning next year, but we'll miss our 4 seniors. I would like to thank the seniors who kept things fun and provided great leadership: Logan Herbert's friendly smile and his photo finish in the 400M Dash! Thomas Bates in his personal growth and his encouragement of others in the 110 HH! Brett Silva was our fireplug blasting out of the blocks for great starts to 3 of our relays! Donnie Weis led with contagious enthusiasm, 100% effort--100% of the time, and was always encouraging others! Thanks to all for a memorable season!
Junior High Boys Track
The Junior High boys track team finished their season Monday night at the Corner Conference Track Meet. With 4 boys gone for various reason, the remaining 10 boys competed extremely well and came away with conference champions in 3 relay events and multiple 3rd and 2nd place finishes as well. The 1st place finishers were the 1600 Medley Relay team of Nolan Grebin, DJ Most, Jonan Wookey, and Kaiden Foster, the 800 Medley team of DJ Most, Jonan Wookey, Damian Meek, and Kaiden Foster and finally the 4x400 team of Jonan Wookey, Kaiden Foster, Josh Martin, and Damian Meek. Josh Martin placed 2ndin High Jump, 200 Hurdles, and 100 Hurdles and Jonan Wookey finished 3rd in Discus. Preston Carpenter, Axel King, Brody Holmes, and Evan Hopf also all scored points for the team and recorded personal bests in many of their events. The boys competed with toughness all season and got to see their hard work pay off at the final meet of the year. Great season Vikes!
GUIDANCE
Scholarships
Horatio Alger Career & Technical Scholarship - June 15
To be considered for the Horatio Alger Career & Technical Scholarship Program, applicants must:
* Have completed high school or plan to complete high school
* Exhibit a strong commitment to pursue and complete a career or technical program at an accredited non-profit post-secondary institution in the United States
*Demonstrate critical financial need (must be eligible to receive the Federal Pell grant as determined by completion of the FAFSA)
*Demonstrate perseverance in overcoming adversity
*Be involved in community service activities
*Be 30 years old or younger
*Be a United States citizen
https://scholars.horatioalger.org/scholarships/about-our-scholarship-programs/technical/
The Tylenol Scholarship – June 30
-ten $10,000 grants and 150 $1,000 grants
-undergraduate and undergraduate student
-health related fields of study
https://www.tylenol.com/news/scholarship?%7Cmkwid%7Cs6S2RjTqQ%7Cpcrid%7C19209700634=
ANNOUNCEMENTS
Svensak Skolan
The Stanton Historical Society is sponsoring Swedish School for children ages 7 - 12 on June 10th -14th from 9:00 AM-noon. The curriculum includes singing, folk dancing, language, crafts and culture. Students will perform at the Midsummar Celebration, June 15th. Classes will be held at the Swedish Heritage and Cultural Center. Fee for the week is $10.00 Call Yvonne Johnson at 586-4504 to register. Enrollment is limited.
Summer Maintenance Position
Summer maintenance position at Anderson Conservation available. Must be 18 years or older. This position is 40 hours per week but they will work around sumer schedule (for baseball, softball, etc.). Perfect opportunity for a student going into DNR-type career. Contact Deb Karwal at 712-623-4753.
COMING EVENTS
Friday, 17th Girls/Boys State Track
Saturday, 18th 7:00-Graduation
Girls/Boys State Track
Monday, 20th 2:05/2:15-Early Dismissal
7:00-8th Grade Graduation
Wednesday, 22nd 5:30-JV/Varsity Softball with Nodaway Valley, Here
5:30-JV/Varsity Baseball at Nodaway Valley
Thursday, 23rd 5:30-JV/Varsity Softball at Shenandoah
Friday, 24th 5:30-JV/Varsity Baseball Essex, Here
Monday, 27th NO SCHOOL
10:00-Memorial Day Service
BREAKFAST MENUS MAY 20-24
Monday

Breakfast Wrap

Muffin/Fruit

Juice/Milk

Tuesday

Sausage Gravy

with Biscuit

Muffin/Fruit

Juice/Milk

Wednesday

Crescent Roll

Muffin/Fruit

Juice/Milk

Thursday

Breakfast Pizza

Muffin/Fruit

Juice/Milk

Friday

Omelet

Toast

Muffin/Fruit

Juice/Milk
LUNCH MENUS MAY 20-24
Monday

Rib/Hot Dog

Baked Beans

Tri-Tater

Mandarin Oranges

Pineapple

Milk

Tuesday

Pork Pattie

Mashed Potatoes

Cooked Carrots

Peaches/Pears

Roll

Milk

Wednesday

Chicken Pattie/Bun

Lettuce/Tomato

Mixed Vegetables

Tomato Juice

Fruit Medley/Applesauce

Milk

Thursday

Meatloaf

Cheesy Mashed Potatoes

Green Beans

Mixed Fruit/Apple

Roll

Milk

Friday

Stadium Dog

Chili/Cheese

Potato Wedges

Baked Beans

Tropical Fruit/Mandarin

Oranges

Milk
It is the policy of the Stanton Community School District not to discriminate on the basis of race, color, national origin, sex, disability, religion, creed, age (for employment), marital status (for programs), sexual orientation, gender identity and socioeconomic status (for programs) in its educational programs and its employment practices. There is a grievance procedure for processing complaints of discrimination. If you have questions or a grievance related to this policy please contact Mrs. Sheila Mainquist, 605 Elliott St., Stanton, Iowa 51573, smainquist@stantonschools.com, (712) 829-2162.