Working...

STANTON COMMUNITY SCHOOL BULLETIN DECEMBER 1, 2017
SCHOOL ACTIVITIES
Holiday Food Drive
The Student Council and 5th grade class would like to have a Holiday Food Drive to help area families. We want to have a contest for K-5th and 6th-12th classes, to see who can "rack up" the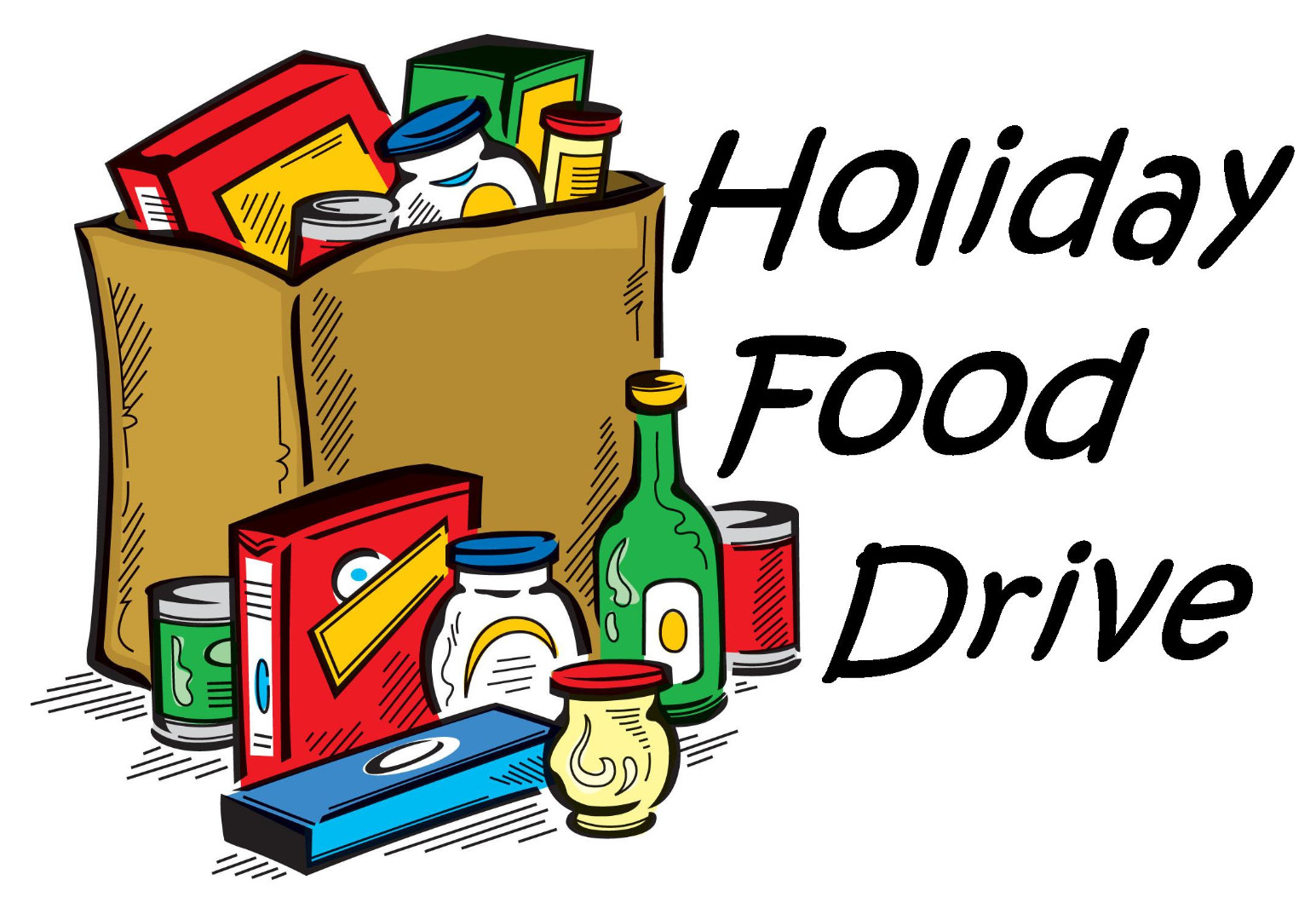 most points from now until December 20th.
Please bring items to your homeroom class. They will be picked up and counted daily by the 5th grade class. We are thankful for the support during this holiday season!
The following point system will allow us to see which class can earn the most points. The elementary class winner and 6th-12th grade winner will earn a movie and pizza party in January!
PLEASE, WHEN DONATING ITEMS, MAKE SURE THEY ARE NOT OUTDATED!!
5 Points
Cereal, Peanut Butter, Toilet Paper, Laundry Detergent
4 Points
Flour, Sugar, Canned Meat, Spaghetti Sauce, Canned Meals (SpaghettiOs, ravioli, stew, or chili) Soups, Canned Meats (chicken or tuna)
3 Points
Hamburger/Tuna Helper, Macaroni and Cheese, Cake/Brownie/Muffin Mixes, Instant Mashed Potatoes, Beans, Oatmeal, Crackers, Rice, Paper Towels, Kleenex, Juice
2 Points
Dish Soap, Hand Soap, Body Soap, Shampoo, Toothpaste, Toothbrushes, Mouthwash, Pizza Sauce, Pasta, Pie Filling
1 Point
Any Canned Good (fruits and vegetables), Boxed Jell-O, Boxed Pudding
We look forward to helping the people in our community and having a fun contest while doing it! Thank you very much!
Santa Lucia
Our annual Santa Lucia Festival of Lights will be Saturday, December 9, at the Stanton High School Gym, beginning at 7:00 PM. Grades 1st-6th will take part in the festival. Ms. Schmidt would like the children to be at the gym between 6:45-6:50 PM, 4th-6th grade students should go to the weight room no later than 6:50 PM. It is very important for every student to participate as it is part of the music curriculum and their music grade.
The students should wear the following:
Boys-White shirts, dark pants, red vest or bow/ribbon tie or red suspenders.
Girls-White blouse, red, blue, or yellow skirt, striped apron red tights or knee socks with floral rings in your hair (if available.)
Clothing items for the student's outfits will be available in the elementary office after the Thanksgiving holiday.
Give the Gift That Keeps on Giving
The yearbook staff is offering gift certificates for the 2018 yearbook, "CAPTURE THE MOMENT". The cost of the book is $50.00, icons are $3.50, and personalization is $6.00.

Give the perfect gift – a colorful memory album of all of the moments captured this school year! Contact Tammy Boyer or Christi Elwood at 829-2162 to get your yearbook gift certificate.
ATHLETICS
Viqueen Volleyball Post-Season Honors
Congratulations to Savanna Moffett who was recently named to the IGCA All-District 1A volleyball team. Tara Peterson was also recently recognized during the KMAland Senior All-Star game in Glenwood on Sunday night as the Corner Conference Freshman of the Year. Congratulations Savanna and Tara; we are all very proud of you!
Viqueen Basketball
The Viqueens opened the season Tuesday, November 21st, against the Bedford Bulldogs. The Viqueen defense proved to be a bright spot for Stanton as the Queens forced 36 Bulldog turnovers. Coach Snyder said, "Our issue was converting the turnovers into points, we missed many opportunities to build and maintain a lead". The Queens led after the 1st quarter 8-4 only the find themselves down 18-17 at halftime. In the second half the Queens poor shooting continued. "I felt we took a lot of good shots and had good looks at the basket all night we just could not get a few to drop" commented Coach Snyder. With one minute left in regulation and Stanton down 4, the Queens made a final push toward victory. With a stepped up full court defensive effort the Queens managed to tie the game with 3 point play by Kami Tibben. A Bulldog free throw would make the difference, the final Bedford 32 - Stanton 31.
Scoring - Hope Ogletree 8, Kami Tibben 8, Tara Peterson 8, Shelby Brockshus 2, Savanna Moffett 5
Hope Ogletree led the team with 5 steals and Kami Tibben had 7 rebounds.
Junior Varsity Boys Basketball
The Junior Varsity basketball team traveled to Tabor for their first game of the season against the Fremont-Mills Knights. With a strong defensive effort, the Vikes won with a final score of 44-13. Their next game will be at Essex on December 12th at 4:00 PM. We are looking forward to a season full of growth and success both on and off the court! Go Vikes!
Junior High Girls Basketball
The junior high girls team has been on the court! We had our season opener with the Bedford Bulldogs. The team worked hard all four quarters, winning 50-12. We then played two quarters and worked just as hard, finishing with a score of 17-12. The Viqueens played East Mills and showed growth. Stanton lost the game, 25-33. Then we had two quarters with the Wolverines and won 20-4.
Monday we played Lenox and the girls worked both ends of the court. The fast tempo start allowed the Queens to win 37-19 against the Lenox Tigers. Friday we take on the South Page Rebels at 5:30 PM in Stanton. The team is excited to play before the varsity girls!
We are very grateful for the support of the school and community at home and away games! Go Viqueens!!!
JH Boys Basketball
The Junior High basketball season is off to a great start. The hard work the boys have been putting in at practice is turning into victories on game days. The A team has wins over Bedford, East Mills, and Lenox, while the B team has a record of 2 wins and 1 loss. The Jr. Vikes are in action again December 8th, at home versus East Mills. The game starts at 3:30 PM and will be played at the Viking Center. Come out and support our Jr. High teams.
NURSE
As the colder weather arrives, it makes it very important to have your child/children dressed in appropriate gear. They will continue to go outdoors as long as the weather permits. Students in grades K-2nd will go outside as long as the temperature/wind chill is 15 degrees or higher. Students in 3rd-5th will go out if the temperature/wind chill is above 10 degrees. Please make sure you send your child/children to school with a hat, heavy coat, and gloves. If they are without these items, they will need to get them from our lost and found box. We want to make sure they go outdoors and get fresh air and exercise. Exercising while having fun is the best kind of exercise! Please contact the school if you have any questions or concerns.
GUIDANCE
Scholarships
AXA Achievement Scholarship –December 15 Apply Early Online
This program provides $670,000 in annual scholarships to graduating high school seniors throughout the nation. Fifty-two (52) scholarship recipients are selected; one from each state, Washington, D.C. and Puerto Rico. These students receive one-time scholarship awards of $10,000 each. From this pool of 52 state winners, ten (10) scholarship recipients are selected as national winners, earning an additional one-time scholarship of $15,000 and the opportunity for an internship with AXA. You can learn more about the program and download an application at www.axa-achievement.com.
AXA Achievement Community Scholarship –The 2018 program will be accepting applications from September 5, 2017 until 10,000 applications are submitted or December 15, 2017, whichever comes first. Your application MUST be one of the first 10,000 submitted electronically by the deadline date. Apply early
-up to 375 winners nationwide
-Scholarships of $2,000
-You can learn more about the program and download an application at https://www.scholarsapply.org/axa-achievement/
Burger King Scholars Program – December 15 Online
-$1,000, $5,000 and $25,000 scholarships available to high school seniors
-www.scholarshipamerica.org/burgerkingscholars/
National Wild Turkey Federation - due January 1 On-Line
-must be a senior with a 3.0 grade point average
-must be pursuing a degree at an accredited institution of higher education
-must support the preservation of the hunting tradition and actively participate in hunting sports—a copy of a current hunting license is required
-must be willing to become a member of the National Wild Turkey Federation (Xtreme JAKES, student or regular membership)
-must be involved in school activities
-must demonstrate ability as a leader among his or her peers
-must demonstrate community involvement
-must submit an essay and autobiography exhibiting dedication to conservation
-must submit three letters of recommendation
-Local Scholarship Winner will receive a minimum of $250
-State/Provincial Scholarship Winner will receive a minimum of $1,000
-National Scholarship Winner will receive $10,000
-Forms available at http://www.nwtf.org/resource-library/detail/jakes-scholarship-application
United States JCI (Jaycee International) Senate Foundation Scholarship – due January 5, 2018
-$1,000 grants awarded to graduating high school seniors in the United States who plan to continue their education at accredited post-secondary colleges, universities or vocational schools.
Online application: http://www.usjcisenate.org/programs/scholarship

State Scholarships for Excellence in Agriculture - due The priority deadline for freshman scholarship applications is January 15
Robert E. Byers Scholarship Trust – January 6, 2018
-Four $500 scholarships
-must be enrolling in an Iowa college or university
-must be majoring in community enhancement or environmental areas of study
-applications are available on-line at www.keepiowabeautiful.com
-applications will only be accepted by e-mail
https://www.keepiowabeautiful.com/grants-awards/byers-scholarship/
Iowa State University – College of Agriculture – Freshman Scholarships in Agriculture – due The priority deadline for freshman scholarship applications is January 15 Online application
https://www.scholarships.cals.iastate.edu/scholarships/freshman
-must rank in the upper 25th percentile in both class rank and national test scores
-demonstrate leadership potential by extracurricular and work experiences
Christina Hixson Opportunity Award – due January 15
Application procedures:
1. Complete and mail the application for the Hixson Opportunity Award by January 15 at http://www.dso.iastate.edu/hixson/application
2. File FAFSA by December 1 (Iowa State University deadline).
3. Complete the Iowa State University admission process by February 1.
4. Submit a recommendation from a guidance counselor, teacher, or community leader that specifically discusses your qualifications based on the Criteria for Eligibility.
Strayer-Rairden Scholarship in Physics – due Jan. 31
http://www.physics.uiowa.edu/undergraduate-program/undergraduate-scholarships-and-awards/strayer-rairden-scholarship-physics
-$1,000 each year, renewable for up to 3 successive years following the initial award
-must be from the state of Iowa
-must have applied for admission to The University of Iowa and declared physics or astronomy as a major
-must take the Drake Physics Prize exam (deadline for this exam is in early December and it is given at the student's high school in January)
ANNOUNCEMENTS
5th Quarter
There will be 5th Quarter after this Friday night girls game for 7th-12th grades until 10:00 PM. Come have some food and hang with your friends!
Stanton Strivers 4-H Meeting
Stanton Strivers 4-H Club has a meeting on Sunday, December 3rd, at 5 PM at the Fire Station. There will be no Caroling at the Care Center on Sunday! Make sure you bring your $5 Grab Bag.
Legion's Santa Claus
Stanton children up to and including second grades are to have a visit from Santa Claus the evening of Saturday, December 19th. Santa will not have time to leave the city limits, so country children are asked to arrange to be at the home of a friend or relative in town. If the children don't have a place in town to go, please bring them to the Legion Hall at 7:30 PM where Santa will visit them. Santa's helpers will be waiting to talk on the telephone (829-2510) to the children on Wednesday, December 13th and Thursday, December 14th, from 5:30-7:30 PM. Be sure to tell Santa each child's name and the home at which they will be on December 16th. Give this information clearly in order that Santa will not forget anyone.
Santa Lucia Bake Sale
The Santa Lucia Bake Sale Committee would greatly appreciate community members to donate baked goods to the bake sale. Please bring items to the school concourse on Saturday, December 9th, before 6:00 PM. Thank you.
Collect Pop Tabs-Help Ronald McDonald House
Virginia Abraham is collecting pop tabs to help the Ronald McDonald House. You may help by collecting them and dropping them off at the 216 Broad Ave., Stanton, or calling her at 829-2433. This program is an easy way for people of all ages to support Ronald McDonald House and know they are making a difference for families.
COMING EVENTS
Friday, 1st FCCLA/Red Cross Blood Drive
5:30-Junior High Girls Basketball with South Page, Here
7:00-Varsity Girls Basketball with South Page, Here
Tuesday, 5th 6:00-Varsity Basketball with Heartland Christian, Here
Wednesday, 6th 1:05/1:15-Early Dismissal
Thursday, 7th 6:30-Yearbook Christmas Party
Friday, 8th 3:30-Junior High Boys Basketball with East Mills at the Viking Center
4:00-Junior High Girls Basketball at East Mills (Nishna Valley)
6:00-Varsity Basketball at East Mills
Saturday, 9th 7:00-Santa Lucia
BREAKFAST MENUS DECEMBER 4-8
Monday

Breakfast Wrap

Muffin/Fruit

Juice/Milk

Tuesday

Sausage Gravy w/Biscuit

Muffin/Fruit

Juice/Milk

Wednesday

Breakfast Pizza

Muffin/Fruit

Juice/Milk

Thursday

Pancakes

Muffin/Fruit

Juice/Milk

Friday

Omelet

Toast

Muffin/Fruit

Juice/Milk
LUNCH MENUS DECEMBER 4-8
Monday

Fiestada

Lettuce

Carrots

Applesauce

Pears

Milk

Tuesday

Ham & Potato Casserole

Peas

Green Beans

Mixed Fruit

Mandarin Oranges

Roll

Milk

Wednesday

Stadium Dog

Chili

Cheese

Potato Wedges

Baked Beans

Fruit Medley

Pears

Milk

Thursday

Orange Chicken

Brown Rice

Cooked Carrots

California Vegetables

Apple

Peaches

Roll

Milk

Friday

Walking Taco

Lettuce/Cheese

Diced Tomatoes

Refried Beans/Corn

Pineapple/Oranges

Butter Sandwich

Peanut Butter Bar

Milk