Working...

STANTON COMMUNITY SCHOOL BULLETIN SEPTEMBER 22, 2017
REMINDER SCHOOL PICTURES FOR K-12th ARE WEDNESDAY, SEPTEMBER 27th
SCHOOL ACTIVITIES
Homecoming
Homecoming preparations are underway for September 29th. This year the parade theme is "Decades" and the dance theme is "Space".
The festivities begin with spirit week with each day having a theme. Students are asked to show their school spirit and dress accordingly.
Monday-Class Color
Seniors-black, Juniors-pink/red, Sophomores-blue,
Freshmen-green, 8th-orange, 7th-white, 6th-yellow,
Elementary- tie-dye
Tuesday-Twin Day-High School/Middle School
Mismatch Day-Elementary
Wednesday-All School Picture Day
Thursday-Hawaiian
Friday-Purple Day
The Queen and King Candidates are
Abbi Adams, Waverley Brown, Madison Franzen, Baylee Gibbs, Emma Roberts, Reece Anderson, Tanner Anderson, Dawson Culver, Noah Kammerer, and Cameron Walter.
The Class representatives are:
Juniors: Nina Patel and Thomas Bates
Sophomores: Devin Isaacson and Will Roberts
Freshmen: Hope Ogletree and Rylan Houston
The Flower Girl is Lucy Dreyer and the Crown Bearer is Noah Marsh.
The Homecoming Pep Rally and Coronation will be held on September 27th at 7:30 p.m. The parade is September 29th at 1:30 p.m. and the game against the East Union starts that evening at 7:00 p.m.
Homecoming Parade Entries
Homecoming is a week away on Friday, September 29th. All commercial parade entries should contact Jody Druivenga in the Elementary Office at 829-2171 so that your entry can be listed in the Homecoming program. The "Kiddie Parade" is always a popular part of the parade. There are three categories for the "Kiddie Parade" – Vehicle, Pet and Costume. All students in 6th grade and below are encouraged to participate and show their enthusiasm and pride in support of our Vikings! Sign up for the "Kiddie Parade" will begin at 12:45 p.m. in front of John Wenstrand's shop on Main Street. All entrants should be checked in prior to 1:15 p.m. The Homecoming Parade begins at 1:30 p.m.
National Honor Society Applications
Senior and junior students who are eligible for admission into the National Honor Society (must have at least a 3.0 GPA) were given application forms on Wednesday. The completed forms must be returned no later than October 5th. Eligible students are asked to fill out an application to be reviewed by members of the faculty. This application asks students to highlight their leadership and service activities throughout their high school careers. The application also asks the students to write a short essay on their character strengths. The selection procedures are found in the student handbook and on the school website. The application may also be accessed on the Shared Student Folder (X:) at school.
ATHLETICS
Viqueen Volleyball
On Thursday, September 14th, the Viqueens traveled to Bedford for a non-conference competition. The freshmen squad won both of their sets with game scores of 21-12 and 21-9 and in junior varsity action, the Queens were victorious with 21-9 and 21-15 sets. The varsity squad came away with a three-set victory with scores of 25-22, 25-19 and 27-15. On Monday, the Queens traveled to Villisca to take on another non-conference competitor, Southwest Valley. The freshmen team won their match (21-11 and 21-17) and in junior varsity action, the Viqueens won a three-set battle with scores of 21-17, 15-21 and 15-8. The varsity squad lost a close five-set battle against the Timberwolves with scores of 16-25, 26-24, 25-16, 20-25 and 14-16.
On Tuesday, the team was on the road again against Fremont-Mills. The freshmen squad posted another win with scores of 21-15 and 21-13. The junior varsity team lost their match (6-21 and 13-21). The varsity Queens won their match with the Knights in their second five-set thriller in two days with scores of 26-28, 25-23 and 17-25, 25-20 and 15-12.
The varsity Viqueen team will travel to Bedford on Saturday for the Bedford Tournament. The schedule for the team is as follows:
10:00 Stanton vs. East Union in small gym
11:30 Stanton vs. East Mills in small gym
12:15 Stanton vs. Central Decatur in small gym
Game times are approximate. Consolation and championship brackets to follow pool play. Admission is $6.00 for adults and $4.00 for students.
Junior Varsity Team Wins Griswold Tournament
On Saturday, September 16th, the junior varsity team traveled to Griswold to participate in the Griswold JV Tournament. In pool play, the Queens dropped their first match of the day to Sidney with scores of 14-21 and 15-21. The team then went on to match victories over Griswold (21-16, 18-21. 15-12) and CAM (14-21, 21-18, 15-11). The team was the #2 seed for the day and took on the #1 seed, Sidney, in the championship game. The Viqueens came out on top in a three-set match with scores of 12-21, 21-16 and 15-7. Congratulations girls!
Viking Football
The Vikings defeated a much bigger team from Wayne to remain unbeaten in district play. The team is busy preparing to be at their best as they travel to Murray to take on the Mustangs tonight. Kickoff is at 7:00 p.m. Go Vikes!
Junior High Volleyball
The junior Viqueens traveled to Tabor on Tuesday, September 19th, for a match with the Fremont-Mills Knights. The Queens came out on top in every match with game scores of 21-18, 21-6, 21-17, 21-11 and 18-11. The team hosted Bedford on Thursday, September 21st. On Tuesday, September 26th, the team will host the junior high team from Essex (3:30 start time) and on Thursday, September 28th, the team travels to the Nishna Valley elementary school to take on the East Mills junior high team (4:00 start time).
Junior High Football
The Junior High football team won their first home game of the year 74-14 against Essex. The boys had a great week of practice which carried over to the game. Their next game will be Monday, October 2nd, at East Mills.
GUIDANCE.
Sept. 5–Oct. 22: Save Now, Save Later: College Savings Plan Parent Giveaway
Open to:

Parents and guardians of Iowa students in grades 6–12.

Awards:

Fifty $1,000 deposits into College Savings Iowa accounts.

Requirements:

Visit the new Parent Handbook guide for important college financing information and enter contact information to register.

Start at:

www.IowaStudentLoan.org/SaveNow
Financial Aid Meeting
-This is the same meeting that was held in Stanton in the spring of 2017 for seniors and their parents. The following are the times and locations for this meeting if you missed it then or would like a refresher.
The Iowa College Access Network (ICAN) will be sponsoring a number of Paying for College meetings in August and September at community college campuses and centers. The information presented will be an explanation of the financial aid process including the Free Application for Federal Student Aid (FAFSA). The target audience for these presentations is this year's high school seniors and their parents, but students from any high school grade level are welcome to attend. October 1, 2017 will be the date for the 2018-19 FASA to go online. All presentations are free of charge and students or parents from any school district are welcome to attend.
Here is the schedule for these regional financial aid meetings in western Iowa:
Sept 27 Council Bluffs – IWCC Student Center–Reiver Room, 6:00 p.m.
ANNOUNCEMENTS
Community Youth Group
Community Youth Group is starting up on October 4th. It meets every Wednesday from 6:30 p.m.-8:00 p.m.at the Covenant Church.
JHUG & CYO
JHUG & CYO will kick off the year at the Isaacson's on Sunday, September 24th, at 5:30 p.m. with games, food & a bonfire. Food will be provided. Please bring a friend & a lawn chair. Come join the fun!
Booster Club Tailgate Supper
Stanton Booster Club will be serving a tailgate supper for Homecoming on Friday, Sept 29th. They will be serving a smoked brisket sandwich, baked beans, chips, dessert and a drink. The cost of the meal is $7.00. Serving will be from 5:00 p.m.-6:30 p.m. Please join them for a great meal and then stay for the game and cheer on the Vikings to a Homecoming victory!
Booster Club Selling Stanton Clothing
The Stanton Athletic Booster Club will be selling Stanton clothing to support our teams and community starting at 11:00 a.m. on Main Street in Stanton on Friday, September 29th-Homecoming Day. Our location is south of the REC in the American Legion Memorial area. Our new design wearables will be available until shortly after the parade ends. Sales will resume at 5:00 p.m. in the Stanton High School concourse during the tailgate meal. Items available: distressed baseball caps in an assortment of colors $15.00, Adult hoodies and 1/4 zip sweatshirts $25.00, Adult Men's shirts, Ladies shirts, and Long Sleeve T-Shirts $17.00, Adult T-Shirts $15.00, Youth Hoodies $20.00, Youth T-Shirts $12.00, Women's and Girls leggings $25.00
We will also be taking orders for stadium seats and have other wearables from the 2016-2017 school year for purchase. We look forward to celebrating a fun filled Homecoming day and cheering our Vikes on to a Viking Victory!
After Prom Fundraiser
The After prom will be raffling off two cooler packages. Raffle tickets are 1 ticket for $5 or 5 tickets for $20. Package includes an Orca Cooler, Meat Donated by Al from Fareway, Stanton Tumbler and Stanton Blanket, a $400 dollar value. See a Jr/Sr student for tickets. Drawing will be September 26th at the volleyball game. There will also be an After Prom Bake Sale at this game.
After Prom is also selling Stanton blankets for $30, Stanton tumblers for $20 and Stanton lanyards for $5. Contact a Jr/Sr student or Jana McCunn or Valerie Vorhies.
Stanton Senior Center Fundraiser
The Stanton Senior Center will be serving pie, ice cream and coffee on September 29th starting at 11:00 a.m. There will also be a rummage sale-no furniture. If you want to bring something in be sure to put a price on it. All proceeds will go to the senior center to help pay bills. You can bring your items in on Thursday, September 28th.
COMING EVENTS
Friday, 22nd 7:00-High School Football at Murray
Saturday, 23rd ShenFest Parade
9:00-Bedford Volleyball Tournament
Tuesday, 26th 3:30-Junior High Volleyball with Essex, Here
5:30-High School Volleyball with Essex, Here
Wednesday, 27th K-12th Picture Day
1:05/1:15-Early Dismissal
7:30-Homecoming Pep Rally and Coronation
Thursday, 28th 4:00-Junior High Volleyball at East Mills, There
5:30-High School Volleyball at East Mills, There
Friday, 29th 11:20/11:30-Early Dismissal
1:30-Homecoming Parade
5:00-Booster Club Tailgate Supper
7:00-High School Football with East Union
Saturday, 30th Clarinda Band Jamboree
9:00-Tri Center Volleyball Tournament
BREAKFAST MENUS SEPTEMBER 25-29
Monday

Breakfast Pizza

Muffin/Fruit

Juice/Milk

Tuesday

Pancakes

Fruit

Juice, Milk

Wednesday

Omelet

Toast

Muffin/Fruit

Juice, Milk

Thursday

Waffle

Fruit

Juice, Milk

Friday

Sausage Gravy Pizza

Muffin/Fruit

Juice, Milk
LUNCH MENUS SEPTEMBER 25-29
Monday

Fiestada

Lettuce

Carrots

Pears

Applesauce

Milk

Tuesday

Grilled Chicken/Bun

Lettuce/Tomato

Mixed Vegetables

Garbanzo Beans

Oranges/Peaches

Milk

Wednesday

Corn Dog

Baked Beans

Sweet Potatoes

Macaroni Salad

Pineapple/Apple

Milk

Thursday

Beef Fritter

Mashed Potatoes/Gravy

Cooked Carrots

Mandarin Oranges

Mixed Fruit

Milk

Friday

HOMECOMING

NO LUNCH
KMA HALL OF FAME THE 2007 STATE 8 MAN FOOTBALL CHAMPIONS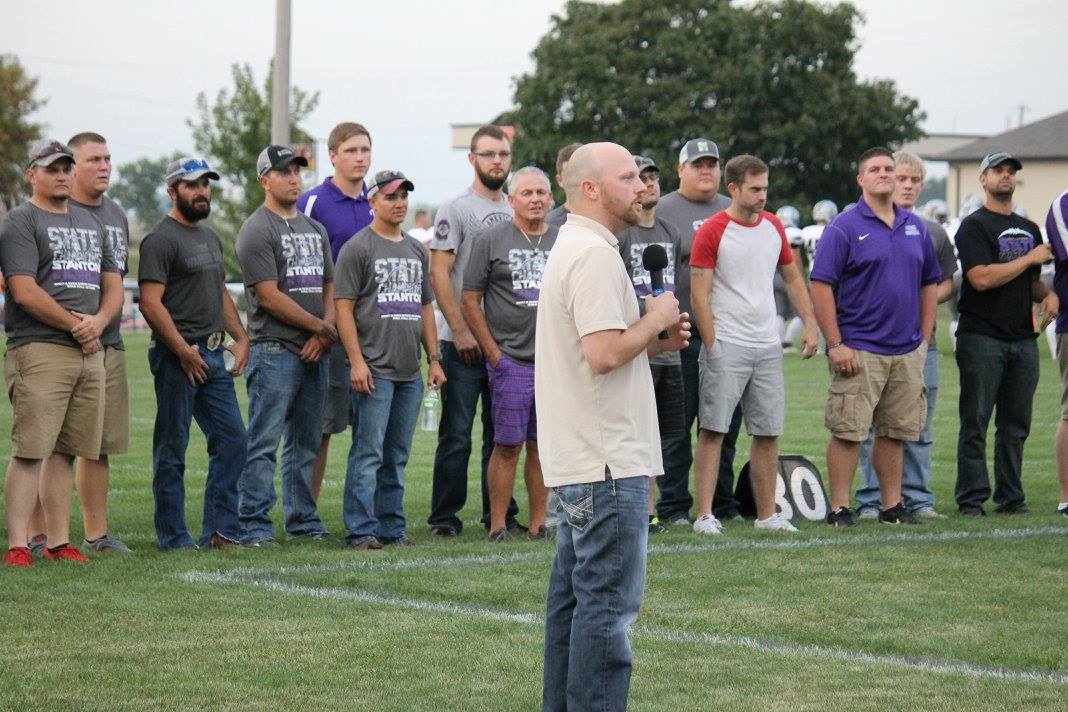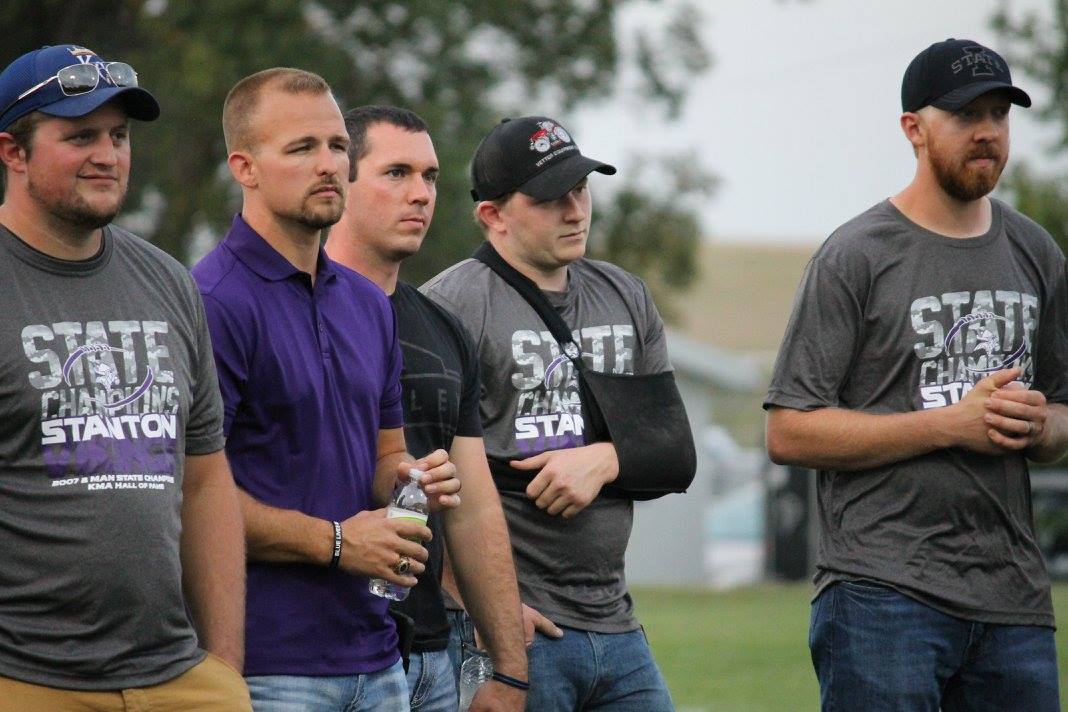 The Vikings