Working...

STANTON COMMUNITY SCHOOL BULLETIN SEPTEMBER 15, 2017
REMINDER SCHOOL PICTURES FOR K-12th ARE WEDNESDAY, SEPTEMBER 27th
SCHOOL ACTIVITIES
Red Cross/FCCLA Blood Drive
FCCLA is sponsoring a Red Cross Blood Drive on Wednesday, September 20th, at the Viking Center from 8:00 a.m.-2:00 p.m. Please call the High School office to schedule a time.
Homecoming
Homecoming preparations are underway for September 29th. This year the parade theme is "Decades" and the dance theme is "Space".
The festivities begin with spirit week with each day having a theme. Students are asked to show their school spirit and dress accordingly.
Monday-Class Color
Seniors-black, Juniors-pink/red, Sophomores-blue,
Freshmen-green, 8th-orange, 7th-white, 6th-yellow,
Elementary- tie-dye
Tuesday-Twin Day-High School/Middle School
Mismatch Day-Elementary
Wednesday-All School Picture Day
Thursday-Hawaiian
Friday-Purple Day
The Queen and King Candidates are
Abbi Adams, Waverley Brown, Madison Franzen, Baylee Gibbs, Emma Roberts, Reece Anderson, Tanner Anderson, Dawson Culver, Noah Kammerer, and Cameron Walter.
The Class representatives are:
Juniors: Nina Patel and Thomas Bates
Sophomores: Devin Isaacson and Will Roberts
Freshmen: Hope Ogletree and Rylan Houston
The Flower Girl is Lucy Dreyer and the Crown Bearer is Noah Marsh.
The Homecoming Pep Rally and Coronation will be held on September 27th at 7:30 p.m. The parade is September 29th at 1:30 p.m. and the game against the East Union starts that evening at 7:00 p.m.
Homecoming Parade Entries
Homecoming is just a couple of weeks away on Friday, September 29th. All commercial parade entries should contact Jody Druivenga in the Elementary Office at 829-2171 so that your entry can be listed in the Homecoming program. The "Kiddie Parade" is always a popular part of the parade. There are three categories for the "Kiddie Parade" – Vehicle, Pet and Costume. All students in 6th grade and below are encouraged to participate and show their enthusiasm and pride in support of our Vikings! Sign up for the "Kiddie Parade" will begin at 12:45 p.m. in front of John Wenstrand's shop on Main Street. All entrants should be checked in prior to 1:15 p.m. The Homecoming Parade begins at 1:30 p.m.
Random Acts of Kindness
The junior high classes in conjunction with our Kindergarten teacher Mrs. Henneman, are donating school supplies to a Houston classroom in need after Hurricane Harvey as part of their random acts of kindness. Anyone who would like to donate to this cause can bring supplies to the school.
ATHLETICS
2007 State Champions-KMA Hall of Fame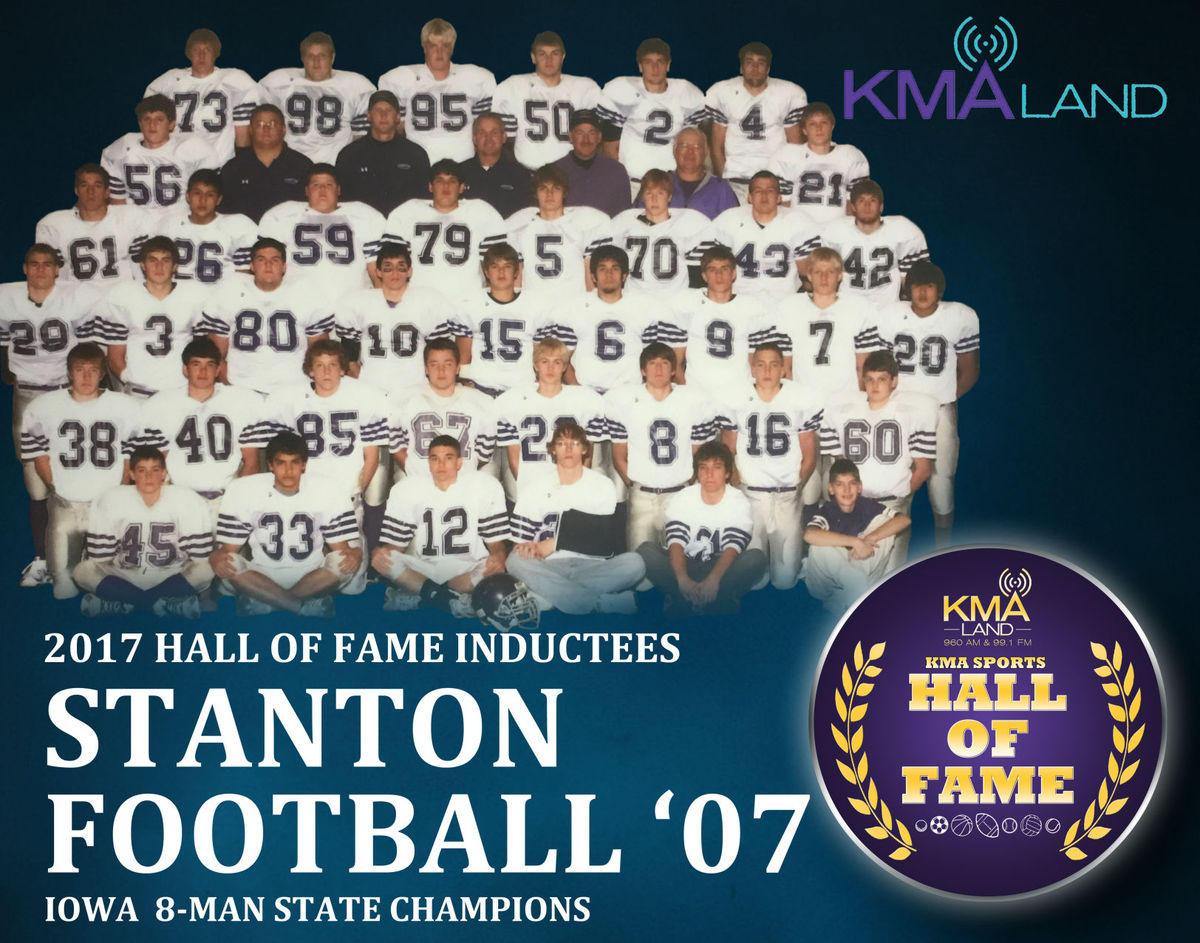 Tonight is a home football game with Wayne of Corydon. Please plan on attending as the 2007 State Champion Stanton Vikings will
be inducted into the KMA Hall of Fame. Derek Martin, Sports Director at KMA, will be here to do the induction prior to the game. At half time, those players and cheerleaders able to return for the 10 year reunion will be introduced individually.
Season Passes
Stanton fans that have purchased season passes please show the pass to the ticket taker at all athletic events. If you have not purchased a season pass or any sport pass, they may be purchased from the high school office.
Casey's Cards
The football and volleyball teams are selling Casey's cards as a fundraiser. The school has the cards available for $20.00 in the high school office if interested. Great values on pizza, subs, gas, etc.
Viqueen Volleyball
On Thursday, September 10th, the Viqueens traveled to College Springs to take on the Rebels of South Page. The junior varsity squad came out strong and won their match with scores of 21-8 and 21-5. The varsity squad came away with a conference win with game scores of 25-23, 25-15 and 25-19. On Saturday, the Viqueens competed in the Shenandoah Tournament. The Queens had 2 wins and 1 loss in pool play which put them in top four of the eight teams in the tournament. The Viqueens lost both of their matches in the championship bracket to place fourth for the day. On Thursday, September 14th, the team traveled to Bedford for a non-conference match with the Bulldogs. On Saturday, the junior varsity will travel to Griswold for a Junior Varsity Tournament. The Queens have a busy week next week as they with travel to Villisca on Monday, September 18th, to take on Southwest Valley and then they turn around to travel to Tabor on Tuesday, September 19th, to play Fremont Mills. Both matches will begin at 5:30 p.m. with junior varsity taking the court prior to the varsity match up. On Saturday, September 23rd, the varsity team will travel to Bedford for the Bedford tournament.
The Junior Varsity volleyball team will participate in the Griswold tournament on Saturday, September 16th. The schedule is as follows:
10:00 Stanton vs Sidney in HS gym
11:00 Stanton vs Griswold in HS gym
12:00 Stanton vs CAM in MS gym
At 1:00 p.m., the final matches will take place according to results from pool play. Come out and support the junior varsity squad!
Viking Football
The Vikings defeated the Demons of Lamoni at Graceland University earning their first district win as well as putting up over 500 yards of offense first time this season. The Vikings will now put their undefeated district record on the line vs Wayne (also undefeated in district play) tonight at Stanton. You will want to join us early for a good seat, we are anticipating a very large crowd as we also celebrate the company and success of the 2007 state champions. Kickoff is at 7:00 p.m.
Junior High Volleyball
The junior Viqueens traveled to College Springs on Thursday, September 7th, for a match against Clarinda Lutheran/South Page. The Stanton team won all games with scores of 21-15, 21-15, 21-7 and 21-14. Next week, the team travels to Tabor for a 4:00 p.m. match with Fremont-Mills on Tuesday, September 19th. On Thursday, September 21st, the squad will host the junior high team from Bedford. Game time will be at 4:00 p.m. in the high school gym. We appreciate your continued support!
GUIDANCE.
Sept. 5–Oct. 22: Save Now, Save Later: College Savings Plan Parent Giveaway
Open to:

Parents and guardians of Iowa students in grades 6–12.

Awards:

Fifty $1,000 deposits into College Savings Iowa accounts.

Requirements:

Visit the new Parent Handbook guide for important college financing information and enter contact information to register.

Start at:

www.IowaStudentLoan.org/SaveNow
Financial Aid Meeting
-This is the same meeting that was held in Stanton in the spring of 2017 for seniors and their parents. The following are the times and locations for this meeting if you missed it then or would like a refresher.
The Iowa College Access Network (ICAN) will be sponsoring a number of Paying for College meetings in August and September at community college campuses and centers. The information presented will be an explanation of the financial aid process including the Free Application for Federal Student Aid (FAFSA). The target audience for these presentations is this year's high school seniors and their parents, but students from any high school grade level are welcome to attend. October 1, 2017 will be the date for the 2018-19 FASA to go online. All presentations are free of charge and students or parents from any school district are welcome to attend.
Here is the schedule for these regional financial aid meetings in western Iowa:
Sept 20 Creston – SWCC, 6:00 p.m.
Sept 27 Council Bluffs – IWCC Student Center–Reiver Room, 6:00 p.m.
ANNOUNCEMENTS
5th Quarter
Fun, Food, Friends, 7th-12th graders are welcome to Mamrelund Lutheran Church Basement after home football games (except homecoming) till 11:00 p.m. Come "Hang Out" with your friends! Anyone wishing to support this activity through a monetary donation to help purchase food or would like to bake goodies please contact Marta Clark Moffett or Susan Isaacson. Thanks so much in advance for helping to give our "Kids" a safe place to "Hang Out"!
Stanton Strivers 4-H Meal
Stanton Strivers 4-H Club will be serving a meal before the football game tonight in the lunchroom. Hamburgers, baked beans, chips, dessert, and drink will be available from 5:30 p.m.-7:00 p.m.
Bible Club
Bible Club is starting up again on September 20th. Bible Club meets Wednesday after school and Sunday morning at 10:45 a.m. It is open to Kindergarten through 5th grade students and it is free. Bible Club meets at the Covenant Church in town. Go to stantoniowa.org and click Bible Club for details and to sign up.
Community Youth Group
Community Youth Group is starting up on October 4th. It meets every Wednesday from 6:30 p.m.-8:00 p.m.at the Covenant Church.
JHUG & CYO
JHUG & CYO will kick off the year at the Isaacson's on Sunday, September 24th, at 5:30 p.m. with games, food & a bonfire. Food will be provided. Please bring a friend & a lawn chair. Come join the fun!
COMING EVENTS
Friday, 15th 5:30-4-H Supper
5:30-2007 State Champions Reunion at Viking Center
6:45-KMA Hall of Fame Induction
7:00-High School Football with Wayne (Corydon)
Reunion of the 2007 Championship FB Team
Saturday, 16th 10:00-Griswold JV Tournament
Monday, 18th 4:00-Junior High Football with Essex, Here
NO JV Football with Essex
5:30-High School at SW Valley at Villisca, There
Tuesday, 19th SWIA College Fair-Juniors
3:45-Junior High Volleyball at Fremont-Mills, There
5:30-High School Volleyball at Fremont-Mills, There
Wednesday, 20th 8:00-Red Cross/FCCLA Blood Drive
1:05/1:15-Early Dismissal
Thursday, 21st 4:00-Junior High Volleyball with Bedford, Here
Friday, 22nd 7:00-High School Football at Murray
Saturday, 23rd 9:00-Bedford Volleyball Tournament
BREAKFAST MENUS SEPTEMBER 18-22
Monday

Breakfast Burrito

Muffin/Fruit

Juice/Milk

Tuesday

Bacon & Egg Pizza

Muffin/Fruit

Juice, Milk

Wednesday

French Toast

Fruit

Juice, Milk

Thursday

Breakfast Wrap

Muffin/Fruit

Juice, Milk

Friday

Sausage Gravy

with Biscuit

Muffin/Fruit

Juice, Milk
LUNCH MENUS SEPTEMBER 18-22
Monday

Hamburger/Bun

Lettuce/Tomato

Tri-Tater

Baked Beans

Mixed Fruit

Cherry Crisp

Milk

Tuesday

Pizza

Lettuce

Carrots

Applesauce

Pears

Milk

Wednesday

Burrito/Hot Dog

Corn

Tomato Juice

Peaches

Pineapple

Milk

Thursday

Spaghetti

Lettuce

Carrots

Apple/Pears

Breadstick

Milk

Friday

Pork Chopette/Bun

Lettuce/Tomato

Baked Beans

Ranch Potatoes

Mandarin Oranges

Mixed Fruit

Milk