Working...

STANTON COMMUNITY SCHOOL BULLETIN JANUARY 27, 2017
SCHOOL ACTIVITIES
Swing Choir Luncheon
Swing Choir Soup Luncheon will be Sunday, January 29th from 11:30 AM-1:00 AM at Mamrelund Lutheran Church. They will be serving Ham & Potato, Broccoli Cheese, and Chicken Noodle. The swing choir will be performing between 12:30 PM and 1:00 PM. Cost is free-will donation.
State Swing Choir Contest
The Stanton Swing Choir will travel to Lewis Central Middle School on January 30th, to compete in the Iowa High School Music Association State Show Choir Contest.
They will perform at 3:50 PM and the public is encouraged to come and watch their performance. Stanton is the only school performing in class 1A. Please come early because they close the doors for every performance and will admit no one once a group has begun their performance. The admission charge is $6.00 for adults and $3.00 for students. Hope to see a big Stanton crowd.
Junior Class Fundraiser
The Junior Class will be having an auction and a bake sale on January 31st during the home basketball game with Sidney to raise money for the Prom. The auction will be held during half time of the girls game.
Pink Out
The FCCLA's annual Pink Out to raise money to fight cancer will be held on Friday, February 10th. The evening will start with a tailgate meal consisting of chili, cinnamon roll, relishes and a drink for a free will donation. Other activities during evening will include a silent auction of generous donations by local businesses and community members. If anyone else wants to donate to the silent auction, contact the high school office or Darla Brooke. There will be an activity during half time of the games and between games. If you are a cancer survivor, there will be a place to sign up and receive a free gift. Hope to see you all there.
Red Cross Blood Drive
A Red Cross Blood Drive will be held on Friday, March 3rd, from 8:00 AM-2:00 PM at the Viking Center. It is sponsored by FCCLA and not only will your donation save lives but it will also help Stanton students receive scholarships.
7th & 8th Grade Science Fair Projects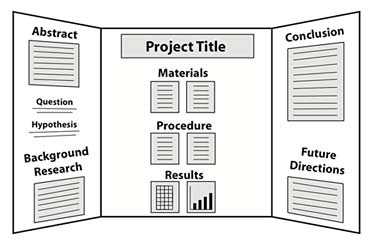 Students in 7th and 8th grades will present their Science Fair projects beginning Monday, February 6th. Please make sure your son/ daughter is preparing their presentations and is ready to present on February 6th. Students will need to have their information on a standard Tri-fold board with information similar to the graphic. If you have any questions, contact Mr. Subbert or Mrs. Erickson.
Corner Conference Science Fair
This year's Junior High Corner Conference Science Fair will be held on February 15th at Fremont-Mills. It is being held earlier this year to
allow the top projects to advance to the State Science Fair Competition.
If you are interested in being a judge this year, please contact Mrs. Erickson (cerickson@stantonschools.com), Mr. Subbert (bsubbert@stantonschools.com), or Mr. Blunt (kblunt@stantonschools.com). Judging usually takes place from 9:00 AM until lunch time. Thank you in advance for volunteering!
Family in Need
Isabelle, one of our kindergarten students at Stanton, recently became a big sister. On January 18th her parents Lexie and Justin welcomed 4 pound 13 ounce, Delilah to this world. Delilah was born with some complications; however, she has turned out to be quite the fighter for only being around five pounds. Delilah has recently been listed as "critical condition" due to her heart defect and other abnormalities. Doctors have started her on Lasix to help with the increase of fluids in her lungs. Delilah will continue to undergo surgeries and tests to determine the cause of her low counts and abnormalities.
The Stanton community has proven time and time again to be supportive of each other. Please continue the giving tradition and help this family with their medical, fuel, and food expenses the best that we can. If you would like to contribute to this worthy cause please send any donation with your student by Friday, February 3rd. All donations for this should be in an envelope marked "Delilah Donation" and students should give to their teacher or the elementary office. All proceeds will go directly to the family to assist with the growing medical expenses. Checks should be made payable to Stanton Community Schools.
Thank you in advance for your positive thoughts and support for this young family!
SCHOOL NURSE
American Heart Month "National Wear Red Day"
In support for research of heart disease and stroke, I am encouraging all staff and students to join in and participate in this nationwide movement by wearing red on Friday, February 3, 2017.
HISTORY: "In 2003, the American Heart Association and the National Heart, Lung and Blood Institute took action against a disease that was claiming the lives of nearly 500,000 American women each year. Stemming from that action, "National Wear Red Day" was born. It's held on the first Friday in February every year to raise awareness about heart disease being the number 1 killer of women."
FACT: Heart disease and stroke cause 1 in 3 deaths among women each year, killing approximately one woman every 80 seconds. Heart disease kills more women than all forms of cancer combined.
PREVENTION: Education and action. Schedule your wellness visit so your doctor can measure your blood pressure, check cholesterol and look for signs of heart disease, stroke and other illnesses.
ENCOURAGE: Encourage your family and friends to have their yearly wellness visit.
Please stop by my office during the month of February to receive heart healthy information and to have your blood pressure taken.
*Information provided by the American Heart Association.
GUIDANCE
Iowa Assessments
The Stanton Community Schools will administer the Iowa Assessments beginning Tuesday, January 31st, to all students in grades 3-11.
The purpose of the Iowa Assessments is to provide the school with
information and to help teachers make sound educational decisions about student's learning. The scores will allow teachers to check
each student's year-to-year growth and to identify each child's strongest and weakest areas of achievement. When test results are used in conjunction with teacher observation and other information from the classroom, teachers and parents can work together to identify and address the educational needs of each student.
Just as in the everyday school activities, you can help your child do their best by seeing that he/she is fully rested. This year, like last year, all students in grades Kindergarten through twelfth will be
offered breakfast on Tuesday, Wednesday and Thursday of the testing week. This breakfast will be at no cost to the students and ALL STUDENTS WILL BE EXPECTED TO GO DOWN FOR THE BREAKFAST BUT DO NOT HAVE TO GO THROUGH THE SERVING LINE IF THEY DO NOT WANT TO EAT BREAKFAST AT SCHOOL. The breakfast is being offered to those who would like to eat breakfast at school. The Stanton PTSO, along with the school, has generously offered to donate funds to help cover the cost of breakfast for the students. The menu for the 3 days is as follows:
Tuesday, January 31st-Sausage Gravy & Biscuit. Juice, Milk
Wednesday, February 1st-Breakfast Pizza. Muffin, Juice, Milk
Thursday, February 2nd-Pancake and Sausage on a Stick, Juice, Milk
Scholarships
Strayer-Rairden Scholarship in Physics – due Jan. 31
http://www.physics.uiowa.edu/undergraduate-program/undergraduate-scholarships-and-awards/strayer-rairden-scholarship-physics
-$1,000 each year, renewable for up to 3 successive years following the initial award
-must be from the state of Iowa
-must have applied for admission to The University of Iowa and declared physics or astronomy as a major
-must take the Drake Physics Prize exam (deadline for this exam is in early December and it is given at the student's high school in January)
John Deere Scholarship-Feb 1
John Deere will sponsor 5 $2000
Check it out online at www.ffa.org/scholarships
Tim Dwight Foundation, Inc. Scholarship – Feb. 1
Eligibility
To be eligible to receive a Tim Dwight Foundation, Inc. Scholarship, applicants must meet all of the following criteria:
be a United States citizen
be a graduating senior from an accredited Iowa high school
have applied to and ultimately be accepted by and enrolled in on a full-time basis (12 credits or more) one of the following accredited four-year universities:
the University of Iowa
Iowa State University
the University of Northern Iowa
submit official transcripts for grades 9 through 11( including class rank and cumulative GPA)
complete The Tim Dwight Foundation Inc. Scholarship Program Application in which the applicant provides evidence of the difficulties and challenges faced in achieving his/her goals during high school and the challenges the applicant will face while attending one of the above-listed universities.
http://timdwightcamp.com/scholarship
Iowa 4-H Scholarships
-February 1
-list of scholarships, instructions, and application available at http://www.extension.iastate.edu/4H/grants.html
-also available at the Montgomery County Extension office
Masonic Scholarship - due February 1, 2017
-Approximately 60 scholarships in the amount of $2,000 will be awarded
-Must be a senior planning to attend an accredited institution which provides (1) a two or four year college program or (2) vocational training
-Need not have a Masonic connection
-The principal criterion is service to school and community with special emphasis upon leadership roles in these areas.
-An applicant's record, communication skills, and need for financial assistance are also considered carefully as is an evaluation of the applicant by a school official.
-The organization, appearance, and completeness of the application itself is also a factor considered in the selection process.
-The Scholarship Selection Committee will select a number of finalists who will be asked to appear before the committee for a personal interview.
-Applications may be found in the office or at www.gl-iowa.org.
The Iowa Arts Scholarship for the Arts - due February 1, 2017
-must be enrolled at the senior class level in an Iowa high school
-must have proven artistic ability in the area of music, dance, visual arts, traditional arts, theatre or literature (creative writing)
-be accepted as a full-time undergraduate student at a fully accredited Iowa college or university with a major in one or more of the areas listed above
-up to five scholarships of $1,000 to $2,000 are awarded annually
-For complete guidelines and eligibility requirements, please visit www.iowaartscouncil.org.
FFA Scholarships – due Feb. 1, 2017
-must be a U.S. citizen
-must be a high school senior or currently enrolled in college
-information available at http://scholarships.ffa.org and click on the "scholarship" link
2017 Future of Iowa Agriculture Scholarship Program
February 3, 2017
2017
APPLICANT/APPLICATION
REQUIREMENTS
Applicants for "First-year Scholarships" must be entering their first undergraduate year at an accredited junior college, college or university.
Applicants for "Upperclassmen Scholarships" must be entering at least their second year at an accredited junior college, college or university.
Applicant must be pursuing an undergraduate or Graduate degree in a program of study that can equip the student to contribute to the agriculture industry in Iowa.
Applicant must be an Iowa Corn Growers Association member or son/daughter of An ICGA member.
Apply for ICGA membership at www.iowacorn.org.
Scholarship applications will be available on our website at www.iowacorn.org by November 1, 2016, and must be submitted by February 3, 2017.
ATHLETICS
Parents' Night
Parents' night for the basketball season will be January 31st. Pictures will be taken from 5:00 PM to 6:00 PM in the lunch room area. Athletes, managers and cheerleaders will be announced between the girls and boys game against Sidney that night. Come fill the gym and support the kids for all their hard work this basketball season!!
Viking Basketball
The Vikings had a tough loss sandwiched in between a couple good wins. Thursday, January 19th, we defeated the Sidney Cowboys 69-55 in semifinals. This win advanced us to the championship game vs Fremont-Mills where we got beat in OT, 73-69. This week we got back to the conference schedule and traveled to Essex on Tuesday night, defeating the Trojans, 64-19. We got out to a good lead and were able to hold their leading scorers well below their season averages. We will be traveling to Fremont-Mills Friday night. A win would put us into a tie for the lead with 2 conference games remaining.
Viqueen Basketball
Stanton raises its record to13-4 with a win at Essex Tuesday night, final score 42-36. Stanton scored only 4 third quarter points. "We got some good looks, we just struggled to score, great effort by the defense though" said Coach Snyder. At times the Queens Achilles heel has been consistent scoring.
ANNOUNCEMENTS
After Prom Parent Meeting
There will be an After Prom Meeting for all Junior and Senior Parents on Thursday, February 2nd, at 6:30 PM in the school library. If you cannot make it please contact Dawn Weis at 712-370-8880.
COMING EVENTS
Friday, 27th 4:00-Junior Varsity Basketball at Fremont-Mills, There
6:00-Varsity Basketball at Fremont-Mills, There
Sunday, 29th 11:30-Swing Choir Soup Luncheon at Mamrelund
Monday, 30th 3:50-State Swing Choir Contest
Tuesday, 31st 4:00-Junior Varsity Basketball with Sidney, Here
6:00-Varsity Basketball with Sidney, Here Parents' Night
Wednesday, 1st 1:05/1:15-Early Dismissal
Thursday, 2nd 7:00-Yearbook Meeting
Friday, 3rd 4:30-Junior Varsity Boys Basketball with Clarinda Academy, Here
6:00-Junior Varsity Girls/Varsity Boys Basketball With Clarinda Academy, Here
Saturday, 4th State Large Group Speech Contest
BREAKFAST MENUS JANUARY 30-FEBRUARY 3
Monday

Pancakes

Fruit

Juice/Milk

Tuesday

Pancake & Sausage

on a Stick

Muffin/Fruit

Juice/Milk

Wednesday

Sausage Gravy

with Biscuit

Fruit

Juice/Milk

Thursday

Breakfast Pizza

Muffin/Fruit

Juice/Milk

Friday

Breakfast Bar

Muffin/Fruit

Juice/Milk
LUNCH MENUS JANUARY 30-FEBRUARY 3
Monday

Rib/Hot Dog

Baked Beans

Tri-Tater

Mandarin Oranges

Pineapple

Milk

Tuesday

Italian Pasta

Lettuce

Carrots

Pears

Applesauce

Breadstick

Milk

Wednesday

Sloppy Joe

Broccoli & Cheese

Smiley Potatoes

Pineapple

Apple Crisp

Milk

Thursday

Tuna Noodle Casserole

Peas

Green Beans

Oranges/Peaches

Roll

Milk

Friday

Chicken Fried Steak/Bun

Lettuce/Tomato

Sweet Potatoes

Baked Beans

Mixed Fruit

Mandarin Oranges

Milk