Working...

STANTON COMMUNITY SCHOOL BULLETIN NOVEMBER 20, 2015
Email and Text Alerts
If you would like to receive email or text messages about school closings or other announcements from the school, please call the high school office at 712-829-2162 and give us your email address, cell phones numbers and carrier.
SCHOOL ACTIVITIES
Blood Drive
FCCLA is sponsoring a Red Cross Blood Drive on Tuesday, December 8th at the Viking Center from 8:00 AM-2:00 PM. Call the high school office for an appointment at 829-2162. By attending the blood drive, not only do you save lives but you help Stanton students receive scholarships.
Holiday Food Drive
The Student Council would like to join the Elementary classes and have a Holiday Food Drive to help area families. We want to have a contest for all K-12th classes, to see who can "rack up" the most points from now until December 18th. The following point system will allow us to see which class can earn the most points. The class with the most points will earn a movie and pizza party in January!
*******PLEASE, WHEN DONATING ITEMS, MAKE SURE THEY ARE NOT OUTDATED!!! *******
5 POINTS-Cereal, Peanut Butter, Toilet Paper, Laundry Detergent
4 POINTS-Flour, Sugar, Canned Meat, Spaghetti Sauce, Canned Meals (spaghettios, ravioli, stew, or chili) Soups, Canned Meats (chicken or tuna)
3 POINTS-Hamburger/Tuna Helper, Macaroni and Cheese, Cake/Brownie/Muffin Mixes, Instant Mashed Potatoes, Beans, Oatmeal, Crackers, Rice, Paper Towels, Kleenex, Juice
2 POINTS-Dish Soap, Hand Soap, Body Soap, Shampoo, Toothpaste, Toothbrushes, Mouthwash, Pizza Sauce, Pasta, Pie Filling
1 POINT-Any other Canned Good (fruits and vegetables), boxed
Jell-O, boxed Pudding
We look forward to helping the people in our community and having a fun contest while doing it! Thank you very much!
ClassDojo Awards
This past quarter Mrs. Johnson's 4th grade class was awarded their ClassDojo awards for being the best class in physical education. Every day the students have physical education class they are graded on respect, attitude, and participation.The points are now reset so you will have to wait and see which elementary grade will receive next quarter's award! If you have any questions on how to stay in-tuned to what's going on in class please email Mr. Kem at ckem@stantonschools.com. There are pictures posted every weekend on the ClassDojo website of what's happening in class.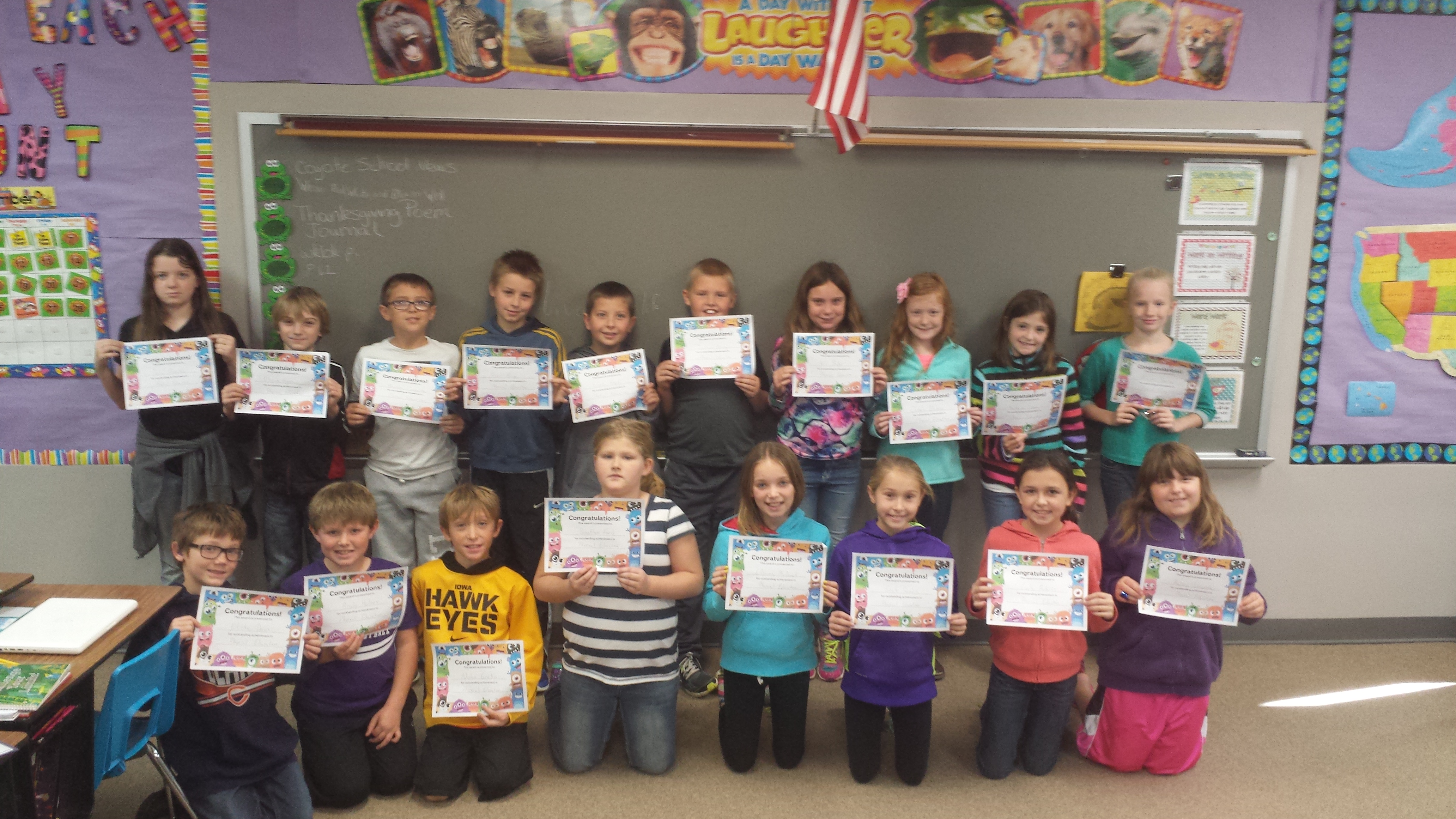 Thank You to Matt King
Thanks to Matt King for talking to the 3rd and 4th graders about his trip to Israel. His pictures showed us a world we've never seen before. It gave us insight to a new culture.
Dental Care Smile
Thank you to Dr. Kim Truka and Dental Care for providing the Red Oak Express newspaper to several of our classrooms. The students are benefiting from reading the newspaper in many ways. Your continued support of our school is appreciated.
Free Homework Help
The Viking Center is offering free homework help again this year after school on Tuesdays and Thursdays from 3:15-5:00. If your child is planning to go there after school, they need to sign up in the office that morning.
Stanton Trash Bag Fundraiser
We still have a supply of trash bags for sale for all of your needs. The bags are of great quality. Sizes available are 15 gallon, 39 gallon and 55 gallon and are $10.00 per roll. Please contact the elementary office at 829-2171 if you are interested in purchasing trash bags.
ATHLETICS
Viqueen Basketball
The high school girls basketball team played two quarters against Tri-Center in the Underwood Jamboree on Thursday evening. The girls will play their first game of the season on Tuesday, November 24th as they host Bedford. It will be a JV and Varsity girls game starting at 6:00 PM. Come out and support the Viqueens as their season gets underway!
Volleyball Post-Season Honors
Four Stanton Viqueens received All-Conference volleyball honors for the 2015 season. Chelsea Weis, a junior, was a unanimous choice for First Team. Junior Ally Focht was also named to the First Team. Senior Devin Druivenga was named to the Second Team and Senior Nicole Graham was named to the Honorable Mention Team. Congratulations girls on these well-deserved honors!
GUIDANCE
Scholarships
ROTC Scholarships- due December 1
-see Mrs. Mainquist
Jeffrey S. Raikes School of Computer Science and Management -University of Nebraska at Lincoln - due Dec. 1
-Regardless of major, the J.D. Edwards Honors Program will cover all the tuition for the required credit hours (total value estimated to be between $10,000 and $15,000)
-a composite ACT score of 30 or higher
-3.5 or better high school G.P.A.
-demonstrated interest in technology and business
Elks National Most Valuable Student Scholarship Contest
-due December 4, 2015
-High school senior and U. S. citizen
-based on scholarship, leadership and financial need
- 500 four-year awards ranging from $1,000 per year to $15,000 per year
-Forms available in the office or at www.elks.org
AXA Achievement Scholarship –December 15, 2015 Apply Early
This program provides $670,000 in annual scholarships to graduating high school seniors throughout the nation. Fifty-two (52) scholarship recipients are selected; one from each state, Washington, D.C. and Puerto Rico. These students receive one-time scholarship awards of $10,000 each. From this pool of 52 state winners, ten (10) scholarship recipients are selected as national winners, earning an additional one-time scholarship of $15,000 and the opportunity for an internship with AXA. You can learn more about the program and download an application at www.axa-achievement.com.
ANNOUNCEMENTS
Collect Pop Tabs-Help Ronald McDonald House
Virginia Abraham is collecting pop tabs to help the Ronald McDonald House. You may help by collecting them and dropping them off at the 216 Broad Ave., Stanton, or calling her at 829-2433. This program is an easy way for people of all ages to support Ronald McDonald House and know they are making a difference for families.
Viking Center Boys (3rd-6th Grade) Youth Basketball 2015/16
5th & 6th Grade: The Viking Center will begin the 5th & 6th grade boys basketball season on Sunday November 22nd from 1:00 PM-3:00 PM. Practice will be every Thursday from 6:00 PM-7:30 PM, and Sundays from 1:00 PM-3:00 PM (excluding holidays or unless otherwise noted by coaches).
3rd & 4th Grade: The Viking Center will start the 3rd & 4th grade boys basketball season at the beginning of December, dates and times of practice are to be determined. Once we know what will work best for coaches and the gym space at the Viking Center, we will let parents know when practices will be. New incoming 3rd grade players will need to order a team jersey that will be worn during games.
The cost of the program for all grade levels is FREE for Viking Center members and $30 for non-members. Jerseys are not included in cost. Registration forms will be available at the Viking Center, Stanton Elementary Office, and on our website: www.stantonvikingcenter.com. Forms are due by Friday November 20th. Please turn into the Stanton Elementary office, drop off at the Viking Center, or mail to the Viking Center, PO Box 42, Stanton IA 51573. Please contact the Viking Center at: 712-829-2900 or email: vikingcenter@myfmtc.com for any questions.
Schedules of tournaments and scrimmages will be released following the scheduling meetings in December.
Santa Lucia
For the 64th year, Stanton will begin its holiday season with the traditional Swedish Santa Lucia Festival of Lights to be held on Saturday, December 12th at 7:00 PM in the Stanton High School gym.
The Santa Lucia story begins in Italy when Christians were being persecuted by the Romans because of their faith. Lucia, a Christian maiden, brought food and medicine to the Christians hiding in the secret underground passages known as the catacombs. She wore candles on her head to light her way in the darkness. Lucia's parents arranged for her to marry a pagen nobleman. She refused and thus was tortured. The story of Lucia's martyrdome and sainthood spread north to Scandinavia by the missionaries. She became the patron saint of all maidens.
This is an all-community project that has been growing each year to give town people and children of the community an understanding and appreciation of their Swedish heritage. Newcomers of the community, with no Swedish background, are encouraged to join in on the fun. Newcomers enter wholeheartedly into the project, which begins early in the morning and lasts throughout the day until after the coronation of the queen in the evening.
The festival includes a skit, Swedish dances and songs by the elementary students, the Skona Maj singers, and the recognition of native Swedes and past Santa Lucia Queens. Highlighting the festival is the crowning of the 2015 Santa Lucia Queen by last year's queen, Heidi Vanderholm.
A bake sale in the concourse will be held prior to and immediately following the program. Free coffee and cookies will be served in the concourse following the coronation. Monetary donations are appreciated to help defray the cost of the Lucia Festival. Donation cans will be by the gym doors.
Queen candidates must be a junior or senior girl, who attends Stanton Community Schools. She must also be the oldest unmarried daughter living at home. On the morning of December 12th, she must rise early and serve breakfast in bed to her parents or guardian. A parent or guardian will call Janean Hart at 829-2441 between 6:00-8:00 AM to confirm her daughter's eligibility. The candidates will sing for residents at nursing homes in Red Oak, Stanton, and Villisca, and also visit shut-ins.
Voting will take place at the Stanton Senior Center between the hours of 9:00 AM and 3:30 PM. Residents of the Stanton School district who are school age and above are eligible to vote. Families of open enrolled students may also vote. The candidate receiving the most votes will be crowned Santa Lucia Queen that evening.
COMING EVENTS
Monday, 23rd 90 Minute Late Start
3:30-Junior High Girls Basketball with East Mills, Here
4:00-Junior High Boys Basketball at East Mills (Nishna Valley), There
Tuesday, 24th 6:00-JV/Varsity Girls Basketball with Bedford, Here
Wednesday, 25th 2:15-Early Dismissal
Thursday, 26th No School
Happy Thanksgiving
Friday, 27th No School
Monday, 30th 90 Minute Late Start
5:30-JV/Varsity Basketball at Fremont-Mills,There
Tuesday, 1st 4:00-Junior High Basketball at Essex, There
4:00-JV Basketball with Essex, Here
6:00-High School Basketball with Essex, Here
Thursday, 3rd 6:00-JV/Varsity Boys Basketball with Riverside, Here
Friday, 4th 4:30-Junior High Girls Basketball at South Page, There
4:00-Junior High Boys Basketball with Lenox, Here
6:00-JV Boys Basketball at South Page, There
7:00- Varsity Girls Basketball at South Page, There
Monday, 7th 90 Minute Late Start
BREAKFAST MENUS NOVEMBER 23-27
Monday

Late Start

Tuesday

Sausage Gravy

with Biscuit

Muffin

Juice, Milk

Wednesday

Breakfast Pizza

Muffin

Juice, Milk

Thursday

No School

Happy Thanksgiving

Friday

No School
LUNCH MENUS NOVEMBER 23-27
Monday

Stuffed Crust Pizza

Lettuce

Carrots

Applesauce

Pears

Milk

Tuesday

Creamed Turkey

Mashed Potatoes

Green Beans

Sweet Potatoes

Dressing/Peaches

Mixed Fruit

Pumpkin Dessert

Milk

Wednesday

Pork Chopette/Bun

Lettuce/Tomato

Baked Beans

Ranch Potatoes

Apple

Peaches

Milk

Thursday

No School

Happy Thanksgiving

Friday

No School
BREAKFAST MENUS NOVEMBER 30-DECEMBER 4
Monday

Late Start

Tuesday

Pancakes

Juice, Milk

Wednesday

Sausage, Egg & Cheese

on a Biscuit

Muffin

Juice, Milk

Thursday

Sausage Gravy Pizza

Muffin

Juice, Milk

Friday

Cereal

Toast

Juice, Milk
LUNCH MENUS NOVEMBER 30-DECEMBER 4
Monday

Chicken Wrap

Lettuce/Cheese

Mixed Vegetables

Cooked Carrots

Mixed Fruit

Pineapple

Milk

Tuesday

Italian Pasta

Lettuce

Carrots

Applesauce

Pears

Milk

Wednesday

Ham Sandwich

Cheese Slice

Lettuce/Tomato

Peas/Green Beans

Rice/Peaches

Strawberries & Bananas

Milk

Thursday

Chicken Nuggets

Baked Beans

Coleslaw

Pineapple

Oranges

Banana Muffin

Milk

Friday

Crispito/Hot Dog

Corn

Lettuce

Peanut Butter Sandwich

Mandarin Orange

Apple

Milk